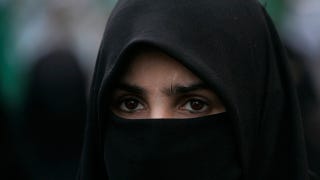 Air France has decided that the misguided French ban on wearing face coverings in public is only in effect on land. According to the company's lawyers, flight crews can't tell a Muslim woman to remover her religious garb since, "The law can only be enforced by police and other public officials on the ground." Airline…
A French newspaper claims that Dominique Strauss-Kahn was such a dick to flight attendants that Air France instituted a policy of only having men deal with him. While that certainly seems in character with DSK's behavior as described by multiple women, the story seems a little thin.
A flight attendant from Air France has been arrested for stealing jewelry, credit cards, and money from sleeping travelers mid-flight. The stewardess, identified only as Lucie R., has confessed to robbing 27 passengers.