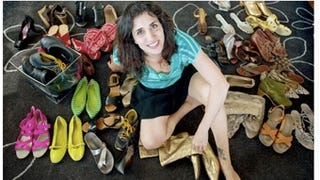 Over the past five years or so, a number of terms have popped up to describe women of a certain age: cougars, MILFs, and now, thanks to author Stephanie Dolgoff, "formerlies," as in "formerly hot." Oh, dear.
Sarah Hampson of the Globe and Mail thinks that women should embrace the aging process by celebrating the "body lexicon" that has sprung up over the past few years as a means to insult and degrade us all. O RLY?
I have no intention of trying to look 25 when I'm 65. And yet I still slather my face in anti-aging cream at night, as a "preventative" measure. But, upon reflection, what the hell am I trying to prevent?
Saturday's Times had a funny little parody of the RealAge quiz, which led us to ponder the true idiocy of RealAge.
Are you over 27 years old? Well guess what! Your cognitive functioning is now officially in decline. Awesome! Let's see if my 28-year-old brain can complete this post unicorns rainbows marshmallows ice cream!
Do you ever find yourself making age-related goals? Are there certain things you feel you should have accomplished by age 25, 35, or 45? Do you compare yourself to your peers? Well, you're not alone.
This morning, we briefly touched on Barbie Orr, John Cleese's girlfriend who claimed to be 27 years old. Turns out Ms. Orr is actually 45. So why did she shave 18 years off her age?