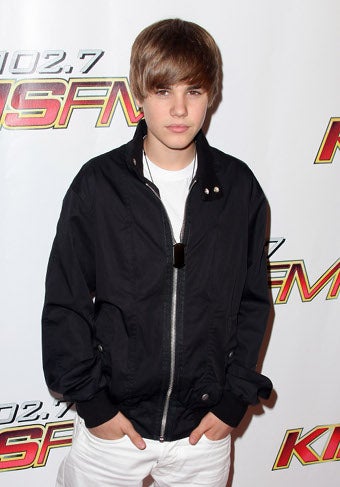 We have no idea what a "wango tango" is, but judging by KIIS FM's Wango Tango 2010 at the Staples Center, it's big: big enough to get Bieber, Usher, Kelly Rowland, Ke$ha, Ryan Seacrest and the Hoff into one room.
Kelly Rowland channels "Dinner with Gershwin"-era Donna Summer.



Bieber stares us down. We're not scared of his blinding white pants and kicks. Just of his crazed fans.



Ke$ha for some reason sported a tattered monkey costume and accessorized with a mannequin head. We've stopped asking - or caring.



Ryan Seacrest looks like a drunk baby who's weighed down by his diaper.



Jason Derulo's obviously been watching a lot of The Tudors - and come on, we've all been there.



Justin Gaston takes the "douche-neck" to horrifying new lows.



I guess when your name's Tinsel Korey, you have a certain obligation to always bring the shine?



Further proof that Adam Lambert is ingenious: if his pants fall, the boots will stop them.



You were promised the Hoff. You'll get the Hoff.


[Images via Getty.]