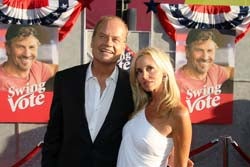 I can't help feeling that when your premiere wattage is Gary Busey and Dane Cook, a film's not in good shape, and so it was last night for the Hollywood premiere of the blatant Kevin Costner-Kelsey Grammer cash-in Swing Vote, I felt so bad for them all, in fact, that rather than sending Paula Abdul and Mary Hart and various children to "the Bad" I installed a kinder, gentler "Pros and Cons" system for the day, so that everyone wins. And loses, of course - after the jump!
Chloe Moretz. Pros: classic LBD, Cons: None! Well played, my child.
Paula Abdul. Pros: color's not bad. Cons: twenty ugly and mysterious things happening on bodice.
Kate Clarke. Pros: cream/Vee are nice on her. Cons: belt, purse, cleavage ratio!
Madeline Carroll. Pros: A Child. Con: The combat boots/dress thing was DOA before she was born.
Victoria Duffy. Pros: Patriotic. Cons: weirdly matchy.
Paula Patton. Pros: Tangerine suits her. Cons: to quote Nina Garcia, "shiny, tight and short is the fastest way to look cheap."
Mary Hart. Pros: lavender? Cons: woefully frumy. Also, lavender.
Images via Getty