Out of 100 people who made the cut on Vanity Fair's 100 list, only thirteen are women. Seems like the New Establishment is still taking notes from the Old one.
The list reinforces some familiar tropes: Men are the innovators and trailblazers of industry. Women, well, we're generally entertainers or being lauded for our social skills.
I must admit, I am perplexed at a lot of this list. Glenn Beck made the list alone, Angelina Jolie had to share the spotlight with Brad Pitt. There were more women of color on the list than I expected (normally, we only see Oprah) but the Obama Administration is directly responsible for the two new entrants. And while many of the listmakers are grouped together by what they have in common, it seems that women are disproportionately tied to men.
Here are the women on the list:
At number eight, Brad Pitt & Angelina Jolie. She is technically the first woman to appear, but she and Brad's accomplishments are bundled together, Bill and Melinda Gates style.
G/O Media may get a commission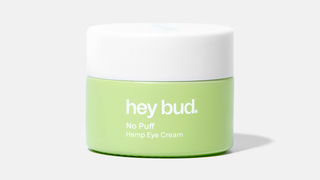 15% off
Hey Bud - No Puff Hemp Eye Cream
At number fifteen, we have David Axelrod, Rahm Emanuel, Valerie Jarrett, and Pete Rouse. Again, in a bundle with the other politicos.
The first woman to get her own entry was Desirée Rogers.
28. Desirée Rogers
White House social secretary

NEW ENTRY.

STAGE OF GLOBAL CONQUEST: Bringing glamour and energy to her role as White House social secretary, the Harvard M.B.A. sees herself as keeper of "the best brand on earth: the Obama brand." She has infused what she calls "the people's house" with a younger, hipper, and artsier spirit through a flurry of events such as its first-ever "poetry jam." She made room for a dance floor in the State Dining Room so the nation's governors-and the president-could join a conga line as Earth, Wind & Fire performed.

FASHION SENSE: Elegantly attired in Chloé, Jil Sander, or Thakoon, Rogers, 50, was profiled by Vogue-and sat next to its editor, Anna Wintour, at New York's runway shows.

FITNESS REGIME: Jumping rope, yoga.

WOMAN-OF-THE-PEOPLE MOVE: Using the Internet to distribute more than 30,000 tickets to the White House Easter Egg Roll instead of forcing the masses to wait on line outside for hours.

ROOTS: The New Orleans native is a descendant of a Creole voodoo priestess-and she has been queen of the Zulu Mardi Gras krewe.
(Side note to Vanity Fair: Don't encourage the birthers!)
Barry Diller and Diane von Furstenberg clock in at number 36.
The next woman to get her own billing is the ever-formidable O.
38. Oprah Winfrey
Harpo

LAST YEAR: 43.

STAGE OF GLOBAL CONQUEST: Oprah is still the single most popular, and powerful, TV host in the world, able to steer millions toward whatever book, diet, or self-help philosophy she embraces. Her highest-profile endorsement to date: fellow Chicagoan Barack Obama. Its partial payoff: she scored lots of camera time during his Election Night victory speech in Chicago's Grant Park. And while there is continual chatter that her appeal may be dimming, no challenger has come close to catching her.

COOL NEW PAL: Former Viacom C.E.O. Tom Freston, whom Oprah, 55, describes as her "business soul mate" and who has been helping her staff the new Oprah Winfrey Network, with hires like Christina Norman, the former president of MTV (and former Freston employee).

LATEST BIG GET: The Queen of all Media will open her 24th season with pop diva Whitney Houston, in what is being billed as "the most anticipated music interview of the decade." The singer, who's had a tumultuous several years, hasn't given an interview since 2002.

LATEST ENTHUSIASM: Oprah gave trendy Web service Twitter a boost in April by signing up and introducing her audience to its co-founder Evan Williams. (She had a million followers in 28 days.)

THORN IN HER SIDE: In August, Oprah and her medical guru, Dr. Mehmet Oz, filed suit against more than three dozen companies to stop them from using the two's images to sell dietary supplements online.
YEAR AHEAD: ↗
And the rest of the women are as follows.
40. Meryl Streep
Actor

NEW ENTRY.

STAGE OF GLOBAL CONQUEST: Everyone adores the regal Streep, who at age 60 is undeniably Hollywood's most skillful actress (her performance as a tough nun in Doubt earned her a record-breaking 15th Oscar nomination and 23rd Golden Globe nod) as well as one of its top-drawing female stars, as witnessed by The Devil Wears Prada ($325 million worldwide gross) and Mamma Mia ($600 million). The Wall Street Journal described her buoyant turn as Julia Child in this summer's Julie & Julia as "a grand comic performance" from "a fearless actress," and The New York Times wrote: "By now this actress has exhausted every superlative that exists, and to suggest that she has outdone herself is only to say that she has done it again." Critics and audiences alike felt Streep's culinary giant upstaged Amy Adams as the present-day blogger Julie Powell.

FAMILY RELATIONS: She took a year off after the birth of each of her four children, who are now aged 18 to 29.

LEGEND HAS IT: She was a mousy teen before she dyed her hair blonde, switched to contact lenses-and was named homecoming queen of her New Jersey high school.

YEAR AHEAD: ↑
44. Miuccia Prada
Prada

LAST YEAR: 30.

STAGE OF GLOBAL CONQUEST: After opening 34 new stores in 2008, the famed designer and her C.E.O., husband Patrizio Bertelli, negotiated an extension on payment of some $650 million in debt, a move which will aid her burgeoning fashion empire's ongoing expansion. (She now has 238 stores worldwide.) Last September, the awful economy forced the company to call off its long-in-the-work plans for an initial public offering of stock. But Prada reportedly turned down investors who were interested in taking minority stakes, and is still looking to go public eventually.

BOLD MOVE: Despite the pressures of the economic recession, Prada, 60, has remained committed to her patronage of the arts beyond her work in fashion. April marked the debut in Seoul of her new exhibition pavilion, "Transformer," a 180-ton, 66-foot-tall structure of steel supports and translucent polyvinyl skin, designed by starchitect Rem Koolhaas.
69. Maria Bartiromo and Erin Burnett
CNBC

NEW ENTRY.

STAGE OF GLOBAL CONQUEST: Bartiromo, 42, is still the queen bee over at CNBC, but Burnett, 33, is coming on strong. The women are the only two CNBC personalities who anchor solo hours while the stock market is open. A new, five-year deal Bartiromo inked with her bosses at the end of 2008 means the original Money Honey isn't ready to relinquish her crown yet, so Burnett had better steel herself for a long fight. (Burnett signed a three-year deal in mid-2008.)

BRAGGING RIGHTS: Bartiromo scored the first post-firing interview with John Thain of Merrill Lynch. Burnett was invited inside Herb Allen's Sun Valley mogul retreat this year-which is notorious for forcing reporters to remain at arm's length.

MEASURING STICK: The currency of the television interviewer is the "get." Bartiromo is on a roll: then Treasury secretary Henry Paulson, Hillary Clinton, Barack Obama, Sarah Palin, and Russian president Dmitry Medvedev. But so is Burnett: Treasury Secretary Tim Geithner, JPMorgan Chase's Jamie Dimon, Goldman Sachs's Lloyd Blankfein, Morgan Stanley's John Mack, and Bank of America's Ken Lewis.

WORLD-DOMINATION WATCH: In the never-ending battle for primacy among CNBC talking heads, Bartiromo was ahead in one noticeable regard for months: it was her face staring down from a giant billboard on the southbound side of Manhattan's West Side Highway. "I was flattered and honored by it," she says. "But it was a little Big Brother, considering how huge it is."

FOOT IN MOUTH: In November 2007, on MSNBC's Morning Joe program, Burnett, while looking at footage of then president George W. Bush flanked by two other world leaders, called him "the monkey in the middle."

YEAR AHEAD: ↗
82. Stephenie Meyer
Author

NEW ENTRY.

STAGE OF GLOBAL CONQUEST: The Mormon housewife's Twilight teen-vampire romance novels sold nearly 29 million copies in one year, capturing the top four positions on the USA Today best-seller list for 2008, making her the first author ever to do so. (J. K. Rowling came close with Nos. 1, 2, 3, and 5 with her Harry Potter titles in 2000.) The movie version of Twilight grossed $191 million in the U.S., and the film adaptation of her second book, New Moon, opens in November. Meyer has also inspired hundreds of Web sites from fans who call themselves "Stephen-ites" or "Twi-hards."

MARITAL RELATIONS: Her husband, Christian, quit his job as an auditor to look after their three sons.

DAILY HABITS: Drives fast but doesn't consume alcohol or caffeine.

LEGEND HAS IT: Meyer, 35, began writing as a 29-year-old Phoenix housewife in 2003 after dreaming of vampires one night. She wrote 10 pages the next morning before driving her sons to swimming lessons. She moved a desk into the living room and finished her 130,000-word first novel in only three months.

THORN IN HER SIDE: Stephen King, who said that "Rowling is a terrific writer and Stephenie Meyer can't write worth a darn."

NEW THORN IN HER SIDE: Jordan Scott, who has alleged in a lawsuit filed in August that Meyer stole ideas from her 2006 vampire novel The Nocturne, and used them in Breaking Dawn, which Meyer published in 2008. Meyer's publisher has said that the claims are meritless.

YEAR AHEAD: ↑
86. Meredith Whitney
Meredith Whitney Advisory Group

NEW ENTRY.

STAGE OF GLOBAL CONQUEST: Financial analyst Whitney's star continues to rise 17 months after her "sell" rating on Citigroup sent the market into a tailspin and helped cost Citigroup C.E.O. Chuck Prince his job. After more than 15 years of working for other people, she set up her own shop in February, the Meredith Whitney Advisory Group.

FITNESS ROUTINE: For several years, Whitney, 39, and her girlfriends have attended a fitness retreat in Mexico called
Bikini Boot Camp.

MOGUL RELATIONS: Despite the fact that Merrill Lynch and Wachovia were two of her biggest short positions in 2008, ex-C.E.O.'s John Thain and Bob Steel still came to a party she had in June to celebrate the opening of her new office.

THORN IN HER SIDE: The Wall Street Journal's David Weidner, who wrote in April 2009 that Whitney's reputation as a Wall Street oracle is overblown and undeserved.

MORTAL ENEMY: Whitney's 2007 "sell" rating on Citigroup put an end to Chuck Prince's career just four days later. She
says she has yet to run into him in a dark alley but keeps an eye over her shoulder just in case.

BRAGGING RIGHTS: In July, Whitney made a midday call to buy shares in Goldman Sachs, turning a down day into a feverish rally.

QUOTE: "The funny thing is, in your twenties you try and look serious, and after your twenties, you just try and look hot. I'm not an old white dude, so I stick out."

YEAR AHEAD: ↗
88. Arianna Huffington
The Huffington Post

LAST YEAR: 90.

STAGE OF GLOBAL CONQUEST: Her eponymous Web site, which recently linked up with Facebook and launched sections devoted to sports, books, and technology, hit its stride during the 2008 election, when its mix of lefty bloggers and news stories culled from other publications resonated with an ever increasing audience. After Barack Obama's victory, it raised another $25 million from investors, then swapped out C.E.O. Betsy Morgan for venture capitalist Eric Hippeau.

SILENT PARTNER: Huffington gets the headlines, but Huffpo co-founder Ken Lerer, a P.R. hotshot who also put in time at AOL, has at least as much influence on the site's strategy.

LABOR RELATIONS: Huffpo pays nothing to the bloggers and publications it "aggregates." Huffington, 59, says her contributors should be pleased to get the exposure, and that other sites she points readers to should be happy to get the traffic. Very often, she's right.

QUOTE: "I did not single-handedly kill newspapers. I had a lot of help from Craigslist."

YEAR AHEAD: ↗
100. Lauren Zalaznick
NBC Universal

NEW ENTRY.

STAGE OF GLOBAL CONQUEST: One of TV's most influential curators, Zalaznick runs NBC Universal's Bravo and Oxygen cable channels and fills both with highbrow takes on lowbrow reality shows: Top Chef, NYC Prep, Real Housewives. One show you can't see on her networks: Project Runway, which started out on Bravo but has been moved, against the network's will, to Lifetime.

PREVIOUS LIFE: The Brown semiotics major spent years in the indie-film world, producing serious fare such as Swoon and Kids.

CRIB: Manhattan's East Village.

PREVIOUS CONTRIBUTION TO MASS CULTURE: As an executive at VH1, Zalaznick, 46, championed Pop-Up Video, which helped pioneer a meta-commentary perspective that today's media consumers take for granted.

SIGN OF OBSESSIVE BEHAVIOR: Once had her family pose for a photo every day of the year.

YEAR AHEAD: ↑
In addition to the main feature, there were also two side articles. The first showcases hall of fame inductees, who are lauded for leaving an "indelible mark on the world of business". Women on that list include: Annette De La Renta (listed with Oscar); Diane Sawyer (listed with Mike Nichols); Melinda Gates (listed with Bill); and Barbara Walters.
Only one woman made the Pit Stop: Donatella Versace.
After reviewing the three lists, I am reminded of why I like to seek out niche publications like Black Enterprise and Pink to see what African-American and women entrepreneurs are doing. Whenever I read a list like this, or the Forbes Most Influential list, an island in their sea of financial power coverage, it stands to reinforce the view of the dominant power structures in society. Women and minorities still do not have a fraction of the power and influence that the men on these lists have attained. And, despite all of our advances over the last forty years, it is exactly as I said in the beginning of the piece: the New Establishment is still taking notes from the Old Establishment.
The 2009 Vanity Fair 100 [Vanity Fair]
The Hall Of Fame [Vanity Fair]
The Pit Stop [Vanity Fair]
Earlier: Why Does Forbes Measure Women's Influence, Not Wealth?

Note: This post has been updated to reflect the oversight of Stephanie Meyer and Meryl Streep at the original publication time.