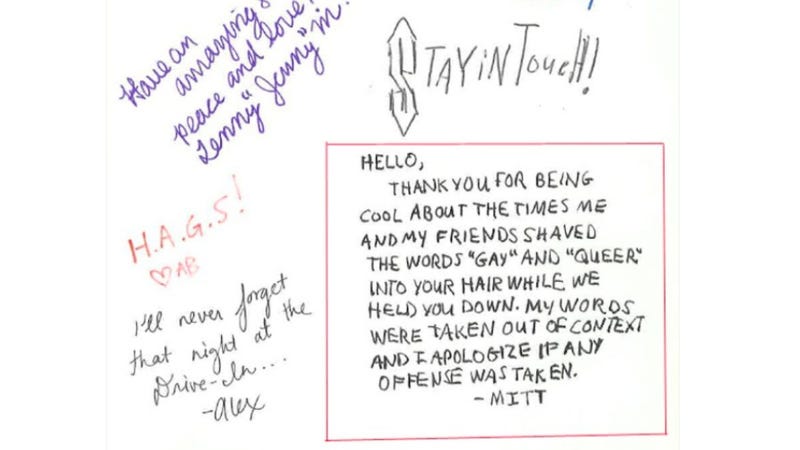 And here's a yearbook message to prove it. [Updated: this yearbook note ain't real. Oh Vanity Fair, how you fooled me]
While Barry Obama wrote a charming, swoonable note to his BFF's GF in her yearbook and looked swag at his Senior Prom, Mitt Romney (allegedly?) terrifyingly shaved the words "gay" and "queer" into a guy's head.
At least Romney non-apology apologized for it!! Who woulda guessed that he would have already locked down the "taken out of context" and "sorry if you were offended" excuses for HOLDING YOU THE FUCK DOWN WHILE WE SHAVED WORDS INTO YOUR HEAD years before Todd Aiken and a circus of Repubs did so. No wonder he was the Republican nominee for President!
The copy of the 1965 yearbook was given exclusively to Vanity Fair from a graduate of the Cranbrook school.
UPDATED: sorry, I'm the douche in this case. Vanity Fair made that post for funzies. Happy post-Memorial Day weekend/aka weekend of too much HAM, to me!
Exclusive: Mitt Romney's Message to Classmate in 1965 High-School Yearbook [Vanity Fair]