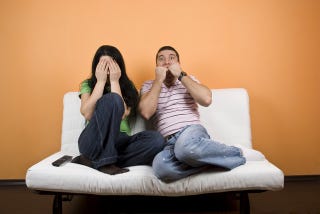 Super Bowl viewers in suburban Tuscon got a shock in 2009 when, during the final moments of the Arizona Cardinals' loss to the Pittsburgh Steelers, they were transported from the gridiron to the inside of some guy's pants.
Comcast reports that the clip cut from the game to a lo-fi porn film, where a woman unzipped a fly, discovered the penis residing within, and engaged in "a graphic sex act."
Oooh! What graphic sex act, I wonder! What one!?
Well, our long nightmare of being stalked by the Robin Hood of pornography is over, as Frank Tanori Gonzalez has been arrested for the offense. Mr. Gonzalez was a supervisor at cable provider(and I swear I'm not making the name up here) Cox Communications and named the clip "Wild Cherries 5." If only he'd been allowed to continue on his quest to assault Tuscon with skin flicks of his design, perhaps this year's Oscar buzz would be about Wild Cherries 1-4, but now we'll never know. Law enforcement is the enemy of art.
Oh, Arizona. You are somehow both The New Florida and America's MLK-Day Repealing Post-Weimar Germany.

Arizona Man Held Over Super Bowl Porn Broadcast [Reuters]