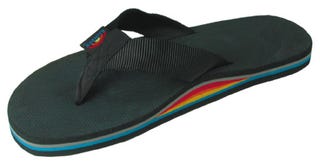 Every year, there's a story about how your shoes are hurting you. In this article, a podiatrist advises against flip-flops, noting that they cause tendonitis. Sir: You will pry my flip-flops from my cold, dead hands.
I love flip-flops, and flat sandals, and what, pray tell, is summer without them? (After years of cheapo brands, I finally invested in some Rainbows, pictured, which actually give a little arch support.) Still: Supposedly, adapting to flip flops or sandals from closed shoes creates stress on the shin muscles as they try to balance the shoe on the foot. Sigh.
Dr. Tzvi Bar-David of New York-Presbyterian Hospital in New York says all shoes should have a comfortable toe box, be well padded, and have a cushioned sole. Dude. Have you been shopping for women's shoes lately? The "toe box" is not a box but a narrow triangle of hurt. There's no padding, anywhere. And trying to find a cool shoe with a cushioned sole is like trying to capture a unicorn fart. They're elusive.
And the truth is, aren't the best shoes for your feet the worst looking? And vice versa? Here's the thing: In the grand scheme of what a woman can put on her feet, there's the truly torturous*:
… and then there are flip-flops. Please. Please. Let us have flip-flops.
Doctor: Flip flops Can Cause Tendinitis [UPI]
*Image via Sigerson Morrison.