Many Christian groups — and Christian universities — aren't accepting of gay students. But one summer camp teaches LGBT youth that their sexual orientation can be compatible with their religion.
The Naming Project, featured this week on Lisa Ling's new show Our America, calls itself "a faith-based youth group serving youth of all sexual and gender identities." Its website states,
The primary focus is to provide a place for youth who are gay, lesbian, bisexual, transgender, queer, questioning or allied to learn, grow, and share their experiences. In this way The Naming Project is a space in which youth can comfortably discuss faith and who they understand themselves to be — whether gay, lesbian, bisexual, transgender...or straight. [...] The Naming Project is positioned within the Christian faith, but attempts to walk with youth wherever their faith may be at a particular time.
The project hosts workshops, field trips, and a five-day summer camp "for 14-18 year olds or those who have completed 8th-12th grades who are of any sexual orientation or gender identity or expression who are interested in discussing and understanding sexuality and gender in terms of their own spiritual journey and are excited to spend time with other teen campers and staff while canoeing, swimming, hiking, singing, doing arts and crafts." Chelsea Shamy, a former camper who appears on the Our America segment, said that she faced stigma at her church after coming out: "I just felt so rejected because I know that's not what God is. God is love and that's not what they were sharing at all." But she tells the Richmond Palladium-Item that the Naming Project gave her the healing experience that "she needed as she began planning for her college transition." At Purdue, she says, she's found acceptance: "I feel extremely comfortable in my skin, more so than I ever have in my life."
Sadly, that isn't the case at many colleges. The authors of the zine The State of the Gay say that Harding University promulgates a "view of queer as broken." And in the wake of Brandon Davies's suspension from BYU for having sex with his girlfriend, Pat Griffin of Opposing Views reports that BYU's honor code "devotes an entire section to 'Homosexual Behavior' making it clear that even holding hands with someone of the same sex could be grounds for an honor code violation whereas heterosexual couples need to actually have sex in order to violate the code." Some suggest that LGBT students should simply choose other universities, but that's not always possible — as Griffin says, "Students who enroll at BYU know what they are committing themselves to, but many young people do not identify themselves as gay until after they are in college." And The Naming Project teaches teens that they don't have to choose between their religion and their sexual orientation — it's a shame that as they grow up, many try to force them to do so.
G/O Media may get a commission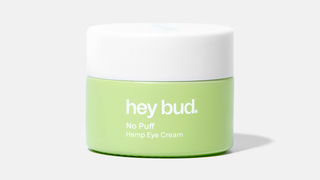 15% off
Hey Bud - No Puff Hemp Eye Cream
Purdue Student's Story Of Sexual Identity Part Of OWN Report [Richmond Palladium-Item]
Lisa Ling Asks: Is It Possible To Be Both Gay And Christian? [Christian Post]
What Does BYU Honor Code Say About Being Gay? [Opposing Views]