A stylist and a casting director quit backstage at designer Mark Fast's recent show during London Fashion Week, citing creative differences over Fast's decision to send three models, who each fell between size 12 and size 14, down the runway.
Fast's Managing Director, Amanda May, tells BBC News that "There was a team change and we're glad we stuck to our vision. "The decision to use the fuller girls is something we have been talking about."
Fast had previously worked with model Hayley Morley, who wears a size 12, for a photography exhibition, titled "All Walks Beyond the Catwalk," which, according to the Guardian "features models aged 18 to 65, in sizes 8 to 16, wearing outfits created by young London designers," and "aims to change the narrow vision of beauty offered by the fashion world."
Part of Fast's motivation for putting larger models on the runway, aside from making a statement regarding the celebration of all body types, might have been to make a point about his own clothing line, which Alice Fisher of the Guardian notes has been criticized in the past for only appearing to be wearable by the super-thin. "It was interesting to be shown how wrong that is," Fisher admits, though she also says that the addition of larger models also served to point out how thin some of the other models were (and the need for different undergarments/better support bras for women with larger breasts, which apparently weren't provided.)
Still, though the casting might not have been a perfect success, it's encouraging to see designers like Fast stick it to both critics and naysayers within his own creative team in order to put a wider range of models on the runway. In doing so, he's able to showcase a variety of models—and, perhaps, attract a variety of customers, as well. As May notes, "There's this idea that only thin and slender women are able to wear Mark's dresses and he wanted to combat that. We wanted women to know they don't have to be a size zero to wear a Mark Fast dress - curvier women can look even better in one."
G/O Media may get a commission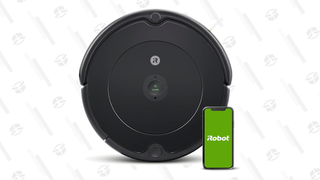 35% Off Black Friday Deal
iRobot Roomba 694 Robot Vacuum
London Fashion Week: Catwalk Row Over Size 12 Models [Guardian]
Larger Models Spark Fashion Row [BBCNews]