Here we were thinking that our addiction to birth control was only dangerous because it allows us to achieve maximum levels of sluttiness and moral decrepitude. But how wrong we were. It turns out our insistence on swallowing hormones for fun month after month is also endangering the environment, and soon it might become a burden to the almighty taxpayer. In fact, it's time we all go down to the local police station and turn ourselves in for the crime of having a vagina — or we can just pay a fine of $1,500 a year instead. Whoa. What?
Yes, Tim Worstall, a contributor to Forbes.com, is arguing that because we pee out synthetic hormones from the pill, which then get into the waterways and result in mutant fish, we should pay a tax of roughly $1,500 a year. Okay, before you totally freak out and write a blank check to the IRS, this is just a theoretical tax at the moment. Nevertheless, the issue of the pollution caused by our precious birth control pills is real, and the European Union is debating paying to clean it up. So, that means someone will have to foot the bill, and you can guess which someone all the people who don't take the pill are going to nominate.
But first, let us talk about the poor animals our slutty behavior is endangering. The problem is ethinyl estradiol (EE2), the synthetic hormone that is the main ingredient in most birth control pills. We take the pills, and it passes through our bodies, magically preventing pregnancy along the way. We then pee it out, and it makes its way through the sewage system and into rivers, streams, and even drinking water. (Blech. Pee water.) Even at relatively low levels, EE2 has been shown to result in a big increase in "intersex" freshwater fish. This typically means that male fish exhibit female traits, which is obviously not the norm. This has become a growing problem that has caused big drops in the populations of many fish species. There's no word on what effect, if any, it has on humans or other species, but this is clearly it's not a good thing for the environment overall.
The trouble is that removing EE2 from wastewater is incredibly difficult and, therefore, expensive. The European Union is considering limiting the amount of EE2 that's allowed in water, and if they do that will mean a huge upgrade will be necessary to their sewage treatment facilities. Those improvements are estimated to cost somewhere around 30 billion pounds (or 46 billion dollars). Plus, then there is the yearly cost of running the equipment. Yowzers.
So, Worstall humbly proposes that the ladies on the pill foot the bill to the tune of $1,500 a year, a figure which he calculates would be their fair share of the cost of running the sewage system. Putting aside for the moment the insanity of imposing such a tax, let's look at his reasoning. His primary argument is that in other instances of pollution, we make the polluter pay; so why should this be any different? Well, for one thing there are countless instances of pollution that are rectified by the sewage system already and we don't make specific parties pay extra for our existing sewage treatment. And more importantly, usually we make the polluting company pay, not the consumer. But Worstall says that won't work in this case. Why not? Because the poor pharmaceutical companies don't make enough money. Wahhh. He does the following nifty calculation:
The price to the NHS of the pill is of the order of £3-£5 a month, call it £50 a year tops. It is clear and obvious that Big Pharma is not making 20 times a year more profits than they actually charge. So it isn't going to be the profits of Big Pharma that pay for such a clean up. Or if it is, suddenly the pill is going to cost £1,050 a year to the [National Health Service]. Which, given that the pill is free on the NHS just means that the taxpayer is going to pay.
G/O Media may get a commission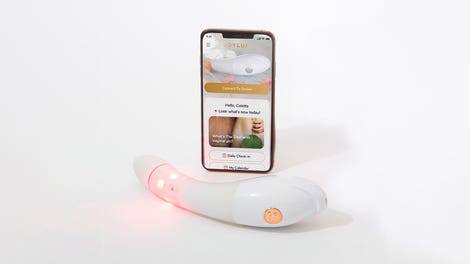 $50 Off
Joylux vFit Gold Device
Oh, right, there's simply no way all the giant pharmaceutical companies together could not cover this cost without going broke; therefore it must be passed onto the taxpayer. And why should we all pay when it's only certain, ahem, consumers that are peeing out the problem. Solid logic, old chap. He also applies this stellar line of reasoning to say that taxpayers can't simply pay directly from the treasury, and the water bills can't be raised to cover it either. Because we can't punish everyone for selfish women's mistakes, right? As Worstall puts it,
[W]ell, it is women taking the contraceptive pill who are causing this pollution. It is their choice to use the pill (and quite obviously they have every right to regulate their fertility). However, their choice of method of doing so imposes costs on the rest of us, upon the society at large. This really is pollution and yes, we do have this general assumption that the polluter should pay for having polluted.

Thus we come to the inescapable conclusion that women who use the contraceptive pill should be charged £1,000, or $1,500, a year for having done so. We cannot charge BP for killing fishies through pollution if we don't also charge others who kill fishies through pollution, can we?
You are correct, sir. Inescapable! Oops, except you forget a few teensy little things: One is the benefit, economic and otherwise, that the entire society receives from having the birth control pill accessible to women. Another is that for many women, taking the pill is not a choice. They're not taking it in lieu of using condoms or an IUD, they're taking it for medical reasons that often have nothing to do with its contraceptive effects. And, finally, sorry to be the bearer of bad news but BP is a company and women who take pills are individuals. And, yes, there is still a difference for the moment. So, theoretically if BP can afford to clean up an oil spill, shouldn't pharmaceutical companies be able to pay to clean up the water?
The European parliament is scheduled to take up the issue of whether to restrict EE2 in the water in November, so we'll have to see how this plays out and who bears the burden of any costs associated with it. It's probably only a matter of time before politicians in the United States seize on this as a way to make us sluts pay our fair share to save the fishes. (Suddenly the GOP will care about the environment and be all in favor of taxes. That ought to be interesting!)
Regardless of what happens, fingers crossed that we all keep in mind that contraception is a society-wide issue, not a women's issue. If men want us to take the pill so they can sex us up without worrying about polluting the world through overpopulation, then they should also share the burden of paying to protect the environment from our resultant toxic pee. Would it be nice if we could figure out a way to provide the medical treatment offered by the pill in a way that doesn't poison fish? Absolutely, and we—and by we I mean pharmaceutical companies—should! But until that point, taking the pill should not be thought of as a simple yes or no choice made by irresponsible polluters any more than driving a car can be seen as a yes or no choice made by selfish commuters.
Women on Contraceptive Pill Should Pay $1,500 a Year More Tax [Forbes]
£30bn bill to purify water system after toxic impact of contraceptive pill [Guardian]