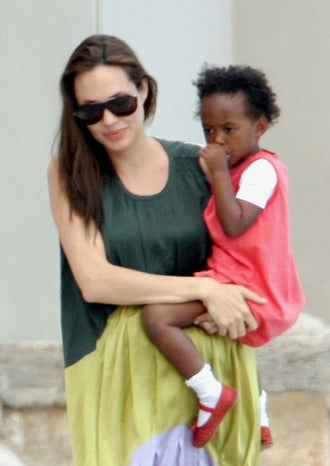 If wee Zahara Jolie-Pitt turns out to be a total goth who listens to Morrissey nonstop and refuses to leave her room, Brad and Angie shouldn't blame themselves; adopted children are twice as likely to be diagnosed with an emotional or behavioral problem, says a new study out of the University of Minnesota. According to Time, "foreign adoptees are far more likely to internalize their problems, suffering more commonly from depression or separation anxiety disorders," explaining Zahara's potential black-clad teenhood. "Domestic adoptees, on the other hand, tend to act out." Before the University of Minnesota's research, it was assumed that adoptees were diagnosed with mental health issues more frequently than other children because their parents were often wealthy and had better access to psychiatric care than the average child; this study suggests that that the disparity could be due to genetics or poor perinatal care. "The deleterious effects may quite possibly have come before the adoption ever took place," study author, psychologist Margaret Keyes points out.
The Minnesota research team assessed 540 non-adopted adolescents, 514 internationally-adopted adolescents and 178 domestically-adopted adolescents from the ages of 11 to 21, according to a press release. The study also interviewed adoptees directly, as opposed to relying on questionnaires filled out by parents, as prior studies had.
Keyes made sure to emphasize to Time that even though adoptees are more likely to have a rough time during adolescence, potential parents shouldn't be deterred. "Males are likelier to have behavior issues... But no one is overly concerned about having boys," Keyes said. She also added, "All adolescents struggle with finding their identity. It makes sense adopted children would struggle more than most."
Adoptees More Likely to be Troubled [Time]
US Teens Adopted As Infants Appear To Have Moderately Increased Odds Of Mental Health Problems [EurekAlert]