In Manhattan, students at Stuyvesant High School — a prestigious public school — protested a new dress code by going to class in clothing the school would ban, including spaghetti-strap tank tops and short shorts.
The rules have been prompting waves of objections by students, particularly now that summerlike weather has arrived and, many noted, the school's air-conditioning has proved to be less than reliable.

Even before the protest on Wednesday, students had been listing their grievances in online forums and in The Spectator, the student newspaper, with many girls arguing that the rules, and the enforcement of them, were disproportionately aimed at them. They also complained about one solution that administrators had developed for offenders: making them wear oversize gray T-shirts.

"We're going to overpower the gray T-shirts," said Madeline Rivera, 18, a senior, before walking into the school. "We're outnumbering them now."

She said the rules seemed arbitrary, that staff members seemed to go after certain "body shapes," singling out girls whose bodies are "more curvy."
They called the protest "Slutty Wednesday," ironically. The Times reports that some students carried "their own illustrated version of the dress code, complete with a red 'X' to reflect their opinion of the rules." So that's what those red X's we've been seeing everywhere mean! Signs make so much sense now. [NYTimes]
---
Karl Lagerfeld is collaborating on a holiday collection of makeup for Shu Uemura. The Chanel designer has long used the company's products to color in his fashion sketches. Graphic designers, tell us what the fuck is up with that horrendous logo in the comments. [WWD]
---
G/O Media may get a commission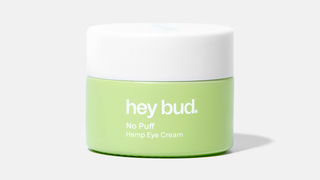 15% off
Hey Bud - No Puff Hemp Eye Cream
Today in Celebrities Getting Paid Money For Things: Alexander Skarsgard is now a face of Calvin Klein. [WWD]
---
And Jessica Chastain has been named the face of a new Yves Saint Laurent perfume called Manifesto. [Telegraph]
---
Liu Wen and Monika "Jac" Jagaciak share the July cover of Chinese Vogue. It is, somewhat astonishingly given the heights her career has attained in the five years since she began working internationally at age 13, Jagaciak's first Vogue cover. [DS]
---
Harvey Nichols — the department store that brought you those walk-of-shame-themed TV ads — imagines you might pee your designer pants with excitement over its sale. [BF]
---
Do you want to peruse the catalog for the Christie's auction of Daphne Guinness's clothes? Of course you do. So many gorgeous dresses, and so many size 37 shoes. [Christie's]
---
Someone on eBay paid $89,100 for the right to pre-order a pair of the sneakers Kanye West designed for Nike. The sneakers hit stores tomorrow, where they will retail for $245. [TMZ]

Michelle Obama's relationship to the fashion industry, and the fashion industry's financial donations to Barack Obama's campaigns, is the subject of a Washington Post piece that seems destined to fan the sexist critique of the Obamas' association with "frivolous" fashion powermongers, like Vogue editor/political fundraising mastermind Anna Wintour.

Name an American designer. Vera Wang. Michael Kors. Diane von Furstenberg. Michelle Obama wears these American luxury labels and a host of others, earning her consistent praise from a fickle industry. She knows the tailoring of Narciso Rodriguez, the flounce of Marchesa, the sweetness of a Tracy Reese sheath.

Her sartorial savvy hasn't hurt her husband. With Michelle Obama's style, a socially progressive political agenda and a campaign ready to promote top designers at fundraisers, the industry coalesced behind the couple in 2008. This year, the designers behind many of the labels hanging in the first lady's closet are supporting her husband's reelection campaign, hosting high-dollar fundraisers and making campaign contributions. Although fashion industry executives have donated to both parties during past election seasons, designers traditionally supported issues, such as AIDS and the environment, rather than candidates. Obama is the first presidential contender who has generated widespread and deep-pocketed support from them.

Not all designers whose garments Michelle Obama has worn have donated to the president, but most have participated in other initiatives, like the Wintour-backed Runway to Win (an online store full of cheap, designer Obama merch, basically). Interestingly, Reed Krakoff, who designed that $990 bird shirt that Ann Romney wore on television, gave $3000 to Obama in 2008. [WaPo]

More out of duty than anything else, we feel compelled to inform you that the Kardashians are launching a line of cosmetics called Khroma. There will be false eyelashes and a something named a "Kardazzle Compact."[Glamour]

A designer in London has invented something she calls "vegetable leather," which is fabric grown from bacteria that flourish in a mixture of "green tea, sugar, bacteria and yeast." She might want to work on the name. There is already something called vegetable leather, which refers to vegetable-tanned leather — as opposed to synthetic-tanned, alum-tanned, brain-tanned, or chromium-tanned leathers, or any of the other tanning processes. /leathernerd [BBC]

Fortune has a long, interesting piece about Burberry's embrace of digital media under the watch of C.E.O. Angela Ahrendts and creative director Christopher Bailey. Burberry stands as a counter-example to many other high-fashion brands, which have eschewed things like e-commerce (and even, in certain cases, having a company Web site) because they still think the Internet seems common.

Ahrendts and Bailey recognized that the company's British heritage and its iconic outerwear (Ahrendts likes to say the company was born from a coat) had to play a key role in defining the company going forward. But they also decided to pursue millennials, a group its peers were ignoring. It was an emerging-markets play as well, with the company's research showing that high-net-worth individuals in the developing world were 15 years younger than in markets such as the U.S. and Britain.
But how to communicate with this new demographic? "What is their language?" asks Ahrendts. "And that's when we looked at each other and said, 'It's digital.' " Burberry started filtering everything through that lens. "We just naturally started asking ourselves on every single thing we did, how do we make it more connected, how do we make it more digital?" Ahrendts explains.
She points to her own kids as an example. A few weeks ago when her niece was in town visiting, Ahrendts told her teenage daughter to have her cousin meet them for brunch in an hour. Rather than pick up the phone, she chatted with her on Facebook. "She knows she's on Facebook because they never turn it off," says Ahrendts. "Doesn't call, doesn't e-mail. That's their English. That's how they communicate."

Annual sales at Burberry last year were $3 billion, or more than double 2007's figure. [Fortune]

The next Council of Fashion Designers of America incubator group is here, and it includes a Project Runway alumnus. The designers who will benefit from subsidized studio space in the garment district and industry mentorships for the next two years are: Daniel Vosovic, Emanuela Duca, Arielle Shapiro of Ari Dein, Reece Solomon and Max Stein of Reece Hudson, Ben and Doug Burkman of the Burkman Bros, Luis Fernandez of Number:Lab, Whitney Pozgay of Whit, Ricky Hendry & Marc Daniels of Isaora, Christian Cota, and Timo Weiland & Alan Eckstein of Timo Weiland. Previous incubatees include Prabal Gurung and Waris Ahluwalia. [WWD]

There is a rumor that Kate Moss, Naomi Campbell, and Rosie Huntington-Whiteley are involved in some capacity with the London Olympics closing ceremony. [DM]

On-again-off-again couple Hilary Rhoda and that hockey player who interned at Vogue have split up, apparently for good. [P6]

Yet another biopic examining Yves Saint Laurent's life and his relationship with Pierre Bergé is in the works. [WWD]

Kelly Cutrone says Bryanboy has been getting emotional on the set of the next cycle of America's Next Top Model. "He cares so much about the contestants, he cries whenever someone is booted off. He's not sobbing or anything. It's not like he spends the whole show crying. He just tears up when they have to go." [NYObs]

Domenico Dolce is publishing a book of his photography. A coffee-table compendium of 67 black-and-white portraits of soccer players will set you back $225. [WWD]

Dynasty costume designer Nolan Miller has died of lung cancer. He was 79. [NYTimes]

An exhibit of Mario Testino's photography has opened at a museum in Beijing. [WWD]

And now, a moment with Marc Jacobs, whose contempt for the CFDA's Health Initiative, and health in general, apparently doesn't end with making teenagers work for him until 4:30 in the morning, for free:

"Smoking's the best! Smoking and sleeping are the two best things in the world."