On Saturday, Illinois Gov. Pat Quinn signed a law that will force strip clubs to pay an additional tax, which will in turn be used to fund programs aimed at preventing sexual assault as well as counseling sexual assault victims. The new tax is expected to haul in about $1 million a year for rape prevention programs, funding that even critics of the tax think is sorely needed.
Opposition over the new tax has coalesced — and you should sit down before you read this — on the right, with some of the Legislature's Republicans not especially thrilled that upstanding small businesses would face even more taxes in this, the witching hour of our country's economic malaise. Their objections, however, have led to a few important questions about the tax, namely, whether stripclubs should be singled out to provide all this additional revenue. The tax, which will be enforced starting Jan. 1, 2013, places a surcharge on strip clubs that feature nude dancing as well as permit alcohol. Clubs could pay three dollars per customer, or pay "a graduated amount based on their sales."
According to Lt. Gov. Sheila Simon, the new law provides essential funding without which many crisis centers couldn't function. "When a sexual assault victim goes to a police station or a survivor calls a hotline," explained Simon, "we need trained staff ready to respond. This bill helps to keep lights on and doors open, jobs filled and responders trained." Illinois has 33 rape crisis centers. Over the four years, these centers have lost about a quarter of their state funding, and are set to receive about $4.6 million this year, down from last year's haul of $5.8 million.
In that sense, the tax revenue is being put to good use, and the AP didn't root out many critics who would take issue with how Illinois plans on distributing the revenue throughout the state's network of social programs. The problem, at least according to Michael Ocello, proud owner of five strip clubs dotting the landscape of southern Illinois, is that singling out strip clubs for this tax implies a link, whether fairly or not, between strip clubs and sexual assault. "I certainly do not for a minute believe that our industry causes these problems," says Ocello. "But one thing we do agree on is that rape crisis centers need to be funded. So, hopefully this will have an effect."
The strip club tax was one of three new laws Gov. Quinn signed on Saturday intended to provide greater protection to women against sexual assault and domestic violence. Another of the laws will help introduce voluntary courses on sexual assault and domestic violence in high schools across the state, while the third law allows prosecutors to use prior domestic violence convictions to support their arguments in first- and second- degree murder cases involving some degree of domestic violence.
G/O Media may get a commission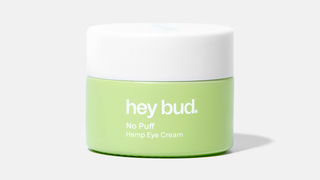 15% off
Hey Bud - No Puff Hemp Eye Cream
You'd have to be some kind of epic asshole to disagree with the way this additional revenue will be used, but implying a definite link between strip clubs and sexual assault carries the danger of further stigmatizing a business that already implies a certain degree of sleaze. Ultimately, this tax might not affect club owners like Ocello as much as it might affect the women who work at Ocello's clubs.
Ill. strip club tax will fund rape crisis centers [AP via St. Louis Post-Dispatch]