Today Dominique Strauss-Kahn was confronted by Tristane Banon, who says he tried to rape her in 2003, in a meeting arranged by police. Neither side veered from their version of events, and Banon reports that Strauss-Kahn was characteristically arrogant and avoided looking her in the eye.
After Strauss-Kahn was accused of sexually assaulting hotel maid Nafissatou Diallo, Banon filed charges against him in France for allegedly trying to rape her in 2003. She says that following an interview, Strauss-Kahn threw her to the ground, tried to take off her clothes, and put his hand in her underwear, forcing her to fight him off of her. Just as Strauss-Kahn downgraded his encounter with Diallo from an attack to some vague "moral error," he says he tried to kiss Banon, but insists he didn't try to rape her.
According to Reuters, it's common for police investigators to have the parties meet face-to-face in sexual assault cases. (Which sounds like a practice that could by horrifying for many abuse survivors.) In an interview last week, Banon said she was looking forward to the joint questioning session because, "I want him in front of me so he can look into my eyes and say to my face that I imagined it."
The meeting took place in front of a judge, but no lawyers, and lasted two and a half hours. Strauss-Kahn was smiling as he left the building and later his lawyer said, "He has nothing to apologize for." In an evening interview with TF1 television (at left, for those who speak French), Banon said she insisted again that he attempted to rape her. "I thought he'd apologize at least for what he's admitted to. I looked at him constantly, he didn't dare look at me." The New York Post reports that she added:
"I knew I'd be given a hard time, just as Nafissatou Diallo was in the United States ... That's what's happening, this group of public relations people is trying to get my ex-boyfriends to say that I'm unbalanced, to show my chaotic childhood, that I'm sleeping with my lawyer. In what kind of country do you attack my lawyer, my childhood, my family, my father, in order to explain that I wasn't the victim of an attempted rape?"
Sadly, we can't think of a country where that isn't common.
The night ended with Strauss-Kahn's lawyer issuing a statement in which he calls her a liar once agin, just for good measure. Now a judge will decide whether to drop the case, open it for further investigation, or proceed with a trial. While the statue of limitations for attempted rape is 10 years, the time limit for sexual assault cases is three years, so if the charges are downgraded, Strauss-Kahn will walk again.
G/O Media may get a commission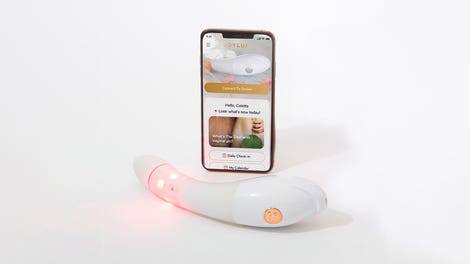 $50 Off
Joylux vFit Gold Device
Strauss-Kahn Meets Accuser At Paris Hearing [Reuters]
Strauss-Kahn Confronted By Rape Bid Accuser [France 24]
Strauss-Kahn Accuser Says She Told Him 'There Was A Rape Attempt' During Meeting [N.Y. Post]