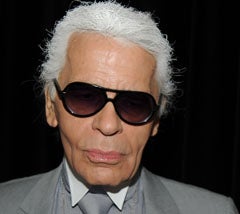 As suspected, Fashion Week is merely a giant party for Karl Lagerfeld: today's his 77th birthday! If you don't have enough cash to buy him a new leather glove, then at least show the man some respect and just listen...
Got that?
Meanwhile, we'll be lurking around the runways all weekend and covering the shiny stuff — that's in addition to Hortense's usual weekend magic.
Have a good one, pretty people.