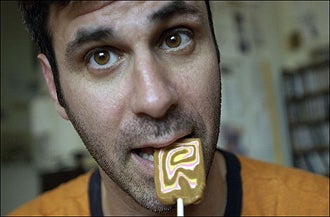 Steve Almond has had a major, earth shaking revelation. The former daddy blogger has realized that "nubile" "media sluts" are actually ZOMG sensitive human beings! Almond went through 4 decades of his life without realizing his jerk-off material had flesh and blood and feelings. But then, just as he was turning 40, his girlfriend gave him an ultimatum: propose to me or I'm gone. So he proposed! A week after that, the girlfriend announced she was pregnant. Six months later, Steve's now-wife gave birth to a baby girl, Josephine. And she's what made him see women Lindsay Lohan and Paris Hilton as more than the sum of their (naked) parts. It's because he realized they have fathers, too!
Here's Almond internal monologue from Men's Health: Best Life:"Hey, that's someone's daughter! I wonder how her dad feels about that picture in which her boobs are hanging out for the world to see? And I wonder if her dad's behavior in some way contributed to this boob hanging?" Look, I'm sure Michael Lohan was a crap father who didn't make Lindsay feel particularly good about herself. But could Almond get any more self-centered? There's a lot of reasons for a woman to wear a low-cut top beyond simply having daddy issues.
Here's more of Almond on his newfound knowledge:
What I've come to realize is that there are really two people inside me: the Dude Self and the Dad Self. The Dude Self has an evolutionary mandate. Namely, to get his DNA into all available fertile females. This is how I explain the compulsion toward media sluts, who, after all, sow the fantasy that women exist only for the carnal pleasure of men.

But then there's the Dad Self. The Dad Self has to worry about the survival of his wife and offspring. It might be said that his genetic material is heavily mortgaged. He regards women differently, especially if he has a daughter. Now he must think about the kind of world in which he'd like her to grow up, and especially how he'd like other males to treat her, which is to say not as a sexual chew toy, but with kindness and respect.

It's here that my old Dude Self and my brand-new Dad Self come to blows. Because as much as I want to check out Paris and Lindsay, I know I'm harming my daughter by doing so. For one thing, I'm sending her a very clear message: Daddy loves sluts. Be a slut and Daddy will love you. And if you don't believe that a 1-year-old picks up on messages, you've never seen my daughter in action. She is intensely focused on everything in her environment, especially whatever I happen to be looking at.
You know, you can look at, beat off to, and appreciate scantily-clad women without calling them "sluts", denigrating them, and blaming them for their own objectification. It's always guys like this who are most concerned about their daughters' virtue. Their reasoning is twofold: One, we know what assholes guys can be because we were assholes, and two, we don't believe women are bright enough to choose the right path for themselves.
The essay ends with this sentiment: "Josephine can do anything she likes with her life, so long as she asks herself first: Is this behavior worthy of the love I deserve? If she flouts this rule, the failure will have been her parents', not hers."
Bimbo-Proof The Nursery: How To Be Sure Your Daughter Doesn't Turn Out Like Lindsay Lohan [Best Life]