This fall, MoMA is inviting art lovers to consider the work of the contemporary mixed-media artist who brought us PeeWee's Big Adventure, and the sight of an entire dinner party singing Harry Belafonte's Banana Boat song: Tim Burton.
If you've ever even been slightly curious about Tim Burton, that ultimate disconsolate son of suburbia who's been inviting us into his gleefully bent movie worlds for 27 years now, rest assured your interest will be sated by the show dedicated to the director at the Museum of Modern Art. Opening on November 22nd, it is an almost ludicrously complete assemblage of Burtoniana.


Just about everything one could think of has been matted and framed, up to and including the nascent director's adolescent doodles and prize-winning poster ideas. The director gave the museum curators the full run of his house and assorted papers; they turned up such early gems as a hand-written high school paper titled "Humor In America" ("Types of jokes I've heard and seen: Pollock [sic] jokes (ethnic jokes), Knock-knock jokes, Insults, Stories, One liners, Elephant jokes, Puns...") and this anti-litter poster, which adorned garbage collection trucks in Burton's native Burbank, California, after he won a Keep Burbank Beautiful competition.


G/O Media may get a commission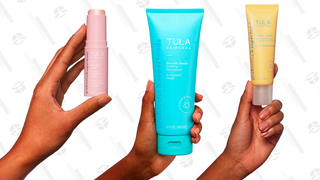 A lot of the drawings on display date from the time Burton spent working at Disney, just after attending CalArts. Apparently, while animating such projects as The Fox And The Hound, Burton found he needed a less treacly creative outlet, and badly: most of the sketches from this period betray a mordant sense of humor and the same dark view of humankind that he would later explore in his feature films. Strangely, these images whipsaw between the grim and the twee. Men and women are portrayed as gothic grotesques, or the drawings hinge on kind of sweet little visual puns: a stringy-haired, football-headed woman tugging a string between both ears gets the caption MENTAL FLOSS, for example. Another drawing features two bunny rabbits with baskets of eggs, one saying to the other, "We've been telling the kids the story of Christ all these years...Well, I think they're old enough now to know what Easter's really all about."


The gallery is crammed with material. (Evidently the excavations of Burton's home proved fruitful.) In addition to the sketches and the high school coursework, there are sculptures — seven of which, in the museum courtyard, Burton made specially for the show — movie props, costumes, posters, Polaroids, and assorted notes such as would please the most dedicated connoisseur of arcana. In one corner, Burton's 1983 adaptation of Hansel and Gretel — screened by the Disney channel exactly once — plays. In it, a Japanese brother and sister outsmart a wicked witch with candy cane rhinoplasty who lives in a house that looks like a quivering, pink tongue. There's also a gingerbread man character who talks to Hansel even as he eats him up. "If you think I'm tasty, and you want my body, come on take another bite," taunts the pastry, to the rhythm of "If You Think I'm Sexy."


Visitors enter the exhibit through an immense mouth that hangs, red carpet-tongue extended; in the black-and-white striped corridor behind, Burton's animated shorts play on flat screens. (At the other end, presumably somewhere in the gallery's stomach, is a room lit by UV light, where Burton's blacklight paintings on velvet are displayed.) It is a curatorial choice that seems to cleave to the crowd-pleasing side of things. It's anyone's guess why the curators thought Burton's work needed such a loud proclamation of its difference from typical museum fare as a jagged-tooth orifice; it looks like the sort of thing one might encounter at an amusement park ride.


The man himself described the process of having his work turned out for display as "surreal" and "an out-of-body experience." He remembered to thank the exhibition sponsor, the ridiculously renamed SyFy — "I'm a sci-fi kinda guy" — only at the very last second.


The exhibit includes a life-sized statue of Johnny Depp as Edward Scissorhands, as well as this sketch of the character.


Artifacts from Beetlejuice include this sculpture, a yellowed copy of The Afterlife newspaper ("ECTOPLASM LEAK AT PLANT NUMBER 9" "EXORCISM RATE SOARS"), and Burton's own hand-written notes about the project, which compare it to that other well-known "extreme four character conflict," Who's Afraid Of Virginia Woolf. In the nearby Mars Attacks section, there are latex severed heads and a gigantic painting of Martian anatomy. Sweeney Todd has a wooden box and an engraved set of cutthroat razors.


Batman is represented by various latex cowls, and Batman Returns merits the inclusion of Michelle Pfeiffer's whipstitched catsuit.
In a class composition Burton completed on September 27, 1974, at the age of 16, he imbued an ordinary trip to the doctor for a checkup and a tetanus shot with a sense of heavy foreboding. "There was a ghoulish smile on his face," wrote Burton, "like he enjoyed sticking the needle in my arm."
Tim Burton has stuck the needle in the moviegoing public's arm for nearly 30 years — by the looks of this show, thoroughly enjoying himself in the process. Long may he continue.
Tim Burton At MoMA [MoMA]