Donald Trump, a regurgitated wombat whose penchant for dishonesty is historically unprecedented—he made 37 false claims on Sunday alone—is now considered more honest and trustworthy than Hillary Clinton.
According to a latest ABC News/Washington Post tracking poll, the two candidates are locked in a "precise dead heat"—46 percent to 46 percent—with Clinton's honesty score dropping by 7 points since September. Forty-six percent of likely voters now perceive Trump as honest/trustworthy, while 38% view Clinton as the same. From ABC News:
Notably, Trump has not gained significantly in being seen as more honest than Clinton. Rather her score has dropped by 7 points in this poll, produced for ABC by Langer Research Associates. The number who volunteer that they don't see either as honest and trustworthy has risen from 8 to 12 percent, a small, but significant change.
ABC notes that no significant changes have occurred since FBI director James Comey's bizarre email announcement, "suggesting the impact, if present, is a subtle one, potentially more apt to influence turnout than vote choices directly."
Let's get something straight, pals. Hillary Clinton can be cautious to the point of nauseating. She has changed positions on multiple issues, used a private email server as Secretary of State, gave friendly and lucrative speeches to Wall Street, and lied about having pneumonia. These aren't particularly lovable facts—barring the pneumonia thing, because of course she did—but there is simply no comparison. At all. From the New Yorker's endorsement, which should be read in full (emphasis mine):
She has been the target of twenty-five years of hatred, misogyny, and conspiracy-mongering, endlessly metamorphosing from one confected "scandal" to another—Filegate, Benghazi, the State Department e-mails. As each one has proved to be more smoke than fire, the fury has found another target. Now attention has moved to the WikiLeaks dump of her staff's e-mail. Thanks to the tradecraft of what appears to be Putin's hackers and his fond desire to unnerve the American political class, we now know that Clinton's aides exchange fevered political calculations; that they say in private what they might not on television; that they make the occasional thoughtless or arrogant remark. Not since the release of the Nixon White House tapes has any political figure had private communications subjected to this degree of public scrutiny. Yet no dark alter ego has emerged. Whatever Americans think about Hillary Clinton, we cannot say that we don't know her. We do know her. And there is a great deal to admire.
G/O Media may get a commission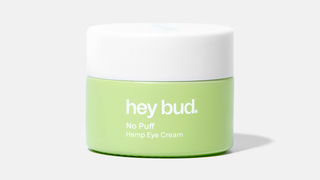 15% off
Hey Bud - No Puff Hemp Eye Cream
This is fun! Are you having fun? I'm having so much fun!