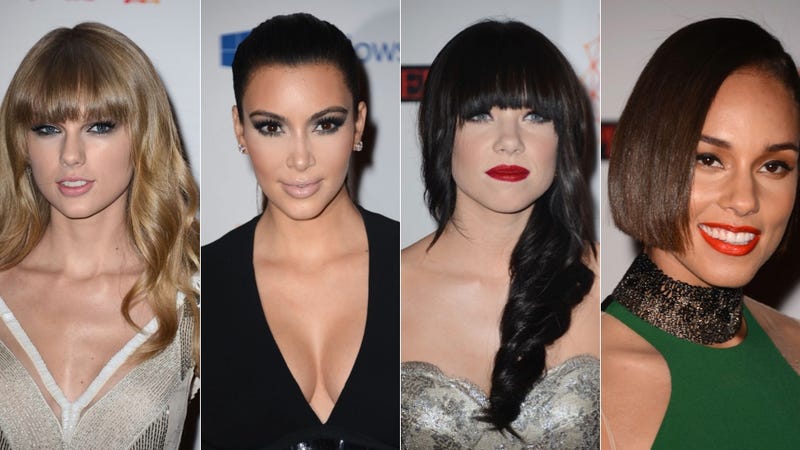 Last night in Frankfurt, Germany, luminaries of the music world gathered for the MTV Europe Awards. On the red carpet, a few of the artists looked pretty good… but most of them stood firmly in the bad and/or ugly categories.
Let's start out with the good, shall we? Luda cleans up real nice.
Psy is still milking the hell out of Gangnam Style, and looking dapper while doing so. Psy just might be my psecret crush!
If you're a creative type who cannot help expressing himself through fashion, it looks good when it's matchy matchy , like Conor Maynard and Chinese singer Han Geng. Viva host Romina also looks swellegantly put-together.
Quirky-cool style for these bands: The Boss Hoss, Muse, Fun.
Admit it: The Hoff looks good.
No complaints about what Alicia Keys is doing here, even though illusion nude sheer mesh whatever is getting old.
Do we like Carly Rae Jepsen with darker hair and blood-red lips? She looks nice overall, but when you dissect? The dress does zilch for her figure and those gorgeous eyes get lost behind bangs that could use a trim. Picture this same hair and make up with a skinny black tuxedo and heels. Better?
Taylor Swift is borderline here. Good/bad. The dress is beautiful, and she should be in the good category, but something about the sparkly illusion-nude panels and her dark eye makeup and lack of lip/cheek color… it's just giving a creepy colorless bland effect.
The weird, shadowy lighting on the red carpet might be part of the problem. But it just seems like she'd look a lot better with her signature pinky red lipstick.
Louise Roe is also borderline. The dress is cool, but white shoes and a GIANT CLUTCH? Why?
Pixie Geldof lugged around a GIANT CLUTCH as well. Do these ladies have documents they need to fax or something?
Torn about Rita Ora's New York City Socialite Ball Gown. Want to like it. So close to liking it. But feeling as though it's Christmas At The White House instead of Pop Star at the MTV Awards.
German Singer Lena: Droopy and bedraggled.
Jedward: Oddly, a bright, happy spot on a strangely somber red carpet. Still, no one should ever wear teal iridescent tinsel motorcycle jackets with matching skin-tight jeggings.
Lana Del Rey doesn't look bad, exactly; that bias-cut satin wrap dress with an asymmetrical hemline is quite pretty in theory, but it's just… boring here. Funereal, almost. Also: Lip color? Please?
Things could be worse, though. There could be strategically placed zippers and a fingerless glove involved. Anne V demonstrates straight-up bad.
Isabeli Fontana has the right spirit, but the outfit choice is so very wrong. Unless she did a killer nü-rock cover of "Gypsies, Tramps and Theives." If she did, this was perfect.
Was there a Project Runway-type challenge in which Kim Kardashian had three hours to whip up a gown using a Bob Fosse leotard and a box of old Jodeci cassingles?
Images via Getty.