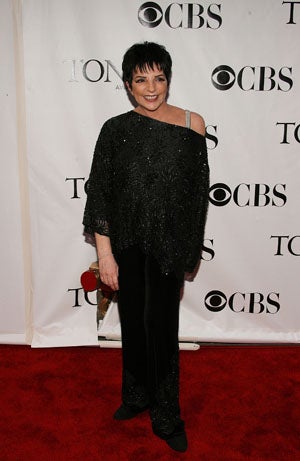 Ah, the Tonys. When the hearts of a million high-schoolers in Cats T-shirts go pitter-pat. The Broadway community owes it to these kids to really bring it one night a year, and I gotta say… The Miss Saigon lover in me was disappointed. I wanted more glitz, more tack, more joie - what we got was a lot of tasteful black. Marisa Tomei, Laura Linney, Mary-Louise Parker, Christine Baranski, Daphne Rubin-Vega and many more appear in The Good, The Bad and The Ugly, post-jump.
The Good:


Marisa Tomei brings it.
I love it when Laura Linney reminds us she's glam.
Christine Baranski always camps it up, awesomely.
Really want to invoke those "It's a business doing pleasure with you" ads, but can't think of a way. Anyway, Mary-Louise Parker.
Kate Shindel's tie-dye number works, adds some much-needed youth to the r.c.
I always feel like, if you have one major red carpet a year, why not make the most of it. Mary McCormack obviously agrees.
...as does Jenna Russell's train.
The Bad:
We all know how I feel about crimes against breasts. Lacey Kohl, j'accuse.
I don't know, guys. I mean, Daphne Rubin-Vega must have really liked this gown to choose it… Why can't I see what she does?
I think it goes without saying that the Viennese Waltz pose Kathryn Grody is striking with husband Mandy Patinkin is awesome. Sadly, the proportions of her ensemble just aren't working.
Laura Benanti's got the glitz, but it feels a little Vegas.
Mayumi Miguel almost rated "Ugly." In the end, though, I didn't think her unfortunate frock had enough imagination.
The Ugly:


Kathryn Hahn, on the other hand, seems to have hit upon a surefire "Ugly" formula: random, tumor-like growths of fabric.
[Images by Getty.]