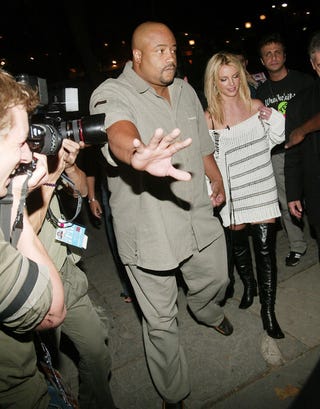 Earlier today, Sadie wondered, "Is there a rule that the more humiliated a celebrity would be by a shot, the bigger the coup?" The answer, alas, is yes. But unfortunately for the paparazzi business, the humiliation pie is getting smaller.
The Daily Beast's Nicole LaPorte crunches the numbers and figures out that "the typical celebrity shot sells for 31 percent less than it did in 2007. The dropoff has been more dramatic at the high end of the market. Six-figure photographs are down more than 50 percent." Why?
Well, for one thing, simple economics. There are now so many photographers parked outside celebrities' houses and favored coffeeshops that oversupply is dragging down prices. And magazine budget cuts have largely killed off the boom-era overbidding on exclusives.
But there's another reason, says LaPorte:
"Nicole Richie is the mother of two; Britney Spears is, astonishingly, under control; and Lindsay Lohan (whose troubles continue) has become so ubiquitous that she's devalued her market value."
According to the story, an exclusive shot of Lindsay passed out drunk could, back in the day, nab $150,000 for exclusive, worldwide rights, and a shot of Britney shaving her head went for $300,000. Now, not only are starlets either behaving themselves, lately there isn't a particularly winning "big story" or star to drive the narrative and up the prices.
It's enough to make you nostalgic for the halcyon days of the Girls Gone Wild era. Or not.
The Crash of the Britney Economy [The Daily Beast]