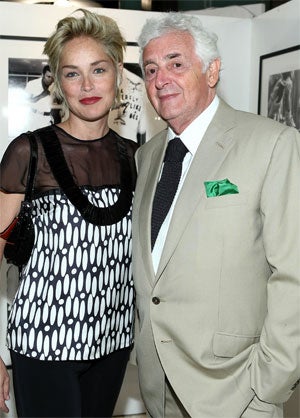 Architectural Digest hosted a retrospective of esteemed photographer Harry Benson's work last night in Los Angeles and the most random celebs and pseudo-celebs turned out to toast him. Sharon Stone, shown with Benson at left, was there looking prettier and softer and just plain lovelier than we've seen in a while. Natassja Kinski, however, looked infinitely rougher than we imagined possible. Darryl Hannah? Somewhere in between the two. (And I suspect that Jillian Barberie is shopping in the teen maternity department.) The full Good, Bad, and Ugly, after the jump.
The Good:
Brooke Burke and David Charvet look pretty and wholesome and like the impossibly attractive boy-and-girl-next door.
Well-groomed and well-dressed, Randolph Duke wonders why he's not designing Halston.
Sharon Stone is probably not wearing anything from the Gap.
Can't you just hear Wendy and Tessa Benson saying to one another, "Stripes? Stripes!"
The Bad:
Is Darryl Hannah wearing tall white Timberlands?
Natassja Kinski's outfit looks like it needs a nap. Or a proper burial.
This lady's name is Tracey Ross. But she is definitely not Diana Ross's daughter.
The Ugly:
There's one at every red carpet event and last night it was (Mrs. Tobey Maguire) Jennifer Meyer. Meyer looks ike she made a wrong turn and stumbled on a red carpet event while on the way to the dry cleaners.
Jillian Barberie is wearing one of the ugliest, most ill-fitting dresses I have ever seen.
Nick Chavez terrifies me.
[Images via Getty.]