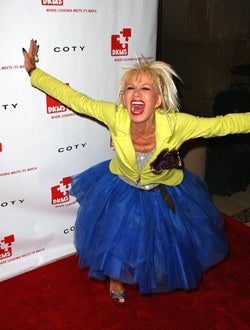 If, like DKMS, you're gonna call something a "Star-Studded Gala," you'd better deliver. Luckily, last night's event at Cipriani 42nd Street delivered with Rihanna, Betsey Johnson, Kylie Minogue, Chelsea Clinton and some truly rad threads.


The Good:

Even if you associate Betsey Johnson dresses with a certain segment of high school girls who you most certainly were not, how can you not love her? And! When I was a waitress, she was a regular, really kind, and a generous tipper!



Good lord, how gorgeous is Vera Wang's fringed, Depression-inflected bit of pure glamor?



I love Chelsea Clinton's feathered stealth-glam lbd. Extra points for expert hair and makeup!



Even if you're not keen on this random-peephole trend (raises hand), you must admit that Kylie Minogue is looking spiffing.



Jazmine Sullivan's many layers are so pretty and spunky and perfectly accessorized that we really hope this sparks a prom trend. Instead, obviously everyone's going to be covered in random peepholes, but hey, a girl can dream.


The Bad:

Sarah Conor demonstrates the problem with a satin dress: it can look ravishing when you slip it on, but one cab ride? And it's Fo21 department!



There is so much to love about Amy Ryan's frock, from elegant color combo to rad fabrication. But something about the shape just doesn't do her justice!


What Say You?

I for one think Rihanna does future-chic like nobody else, but is this a bridge too far for some?