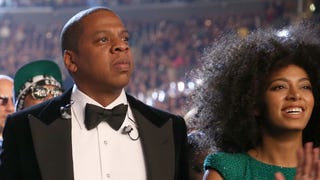 The Standard Hotel announced Wednesday it discovered who was behind the leak of a tape that showed Beyonce's sister hitting Jay Z during an argument in one its elevators.
The hotel fired the person behind the leak, but did not identify them to the press. Via the Associated Press:
The Standard Hotel said the person had been terminated for "breaching the security polices of the hotel and recording the confidential CCTV video."

[...]

The hotel said after the video was first aired that it was "shocked and disappointed" by the security breach. It said Wednesday that it will turn over "all available information to criminal authorities."
According to US Weekly, a worker at the Standard Hotel said the video was made with a cell phone that recorded images from a monitor in a back room at the hotel.
TMZ reportedly paid the person who leaked the tape $250,000.
Image via Getty.