Sportscaster Andy Gray, who drew criticism for his disparaging comments about a female line official, has now been fired. The final straw was sexist behavior toward a coworker.
Gray and his co-anchor Richard Keys initially drew fire for their dumb assertion that female line official Sian Massey couldn't possibly understand football's offside rule. Now Gray's been fired — says Sky Sports managing director Barney Francis, "Andy Gray's contract has been terminated for unacceptable behaviour. After issuing a warning yesterday, we have no hesitation in taking this action after becoming aware of new information today." That new information would be the clip above, in which Gray suggests that co-presenter Charlotte Jackson might like to help him stuff his microphone in his pants.
Gray wasn't the only one caught making sexist comments — Keys has been suspended too, as has reporter Andy Burton, who helps Gray in his all-important quest to evaluate Massey's appearance here:
The saddest thing about all this is that, as a result of the scandal, Massey has had to take a break from officiating. Mike Riley, general manager of Professional Game Match Officials, tells the Guardian, "PGMO and Sian believe that with any football match the focus should not be on the officials but on the players and the game itself. That is only fair to those connected with the clubs and their supporters." Of course, it was sexism like Gray's that put the focus on Massey's gender in the first place. It's a relief that Gray is being punished, but a shame Massey has to suffer the fallout of his stupidity.
G/O Media may get a commission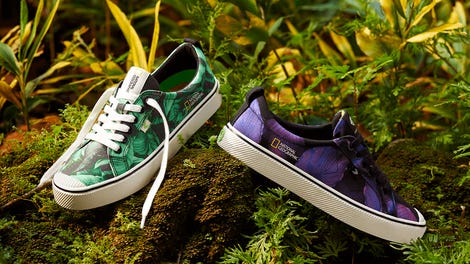 New New New
Cariuma + National Geographic
Andy Gray Sacked By Sky For 'Unacceptable And Offensive Behaviour' [Guardian]
Andy Gray Sacked: How The Sky Sports Sexism Scandal Has Unfolded [Telegraph]
Andy Gray Under Increasing Pressure After Release Of Further Footage Of Him Criticising Sian Massey [Telegraph]
Sky Sports: Andy Gray Sacked For Offensive Behavior [In Entertainment]
Earlier: British Soccer Commentators' Sexist Diatribe Caught On Tape
Female Refs Won't Cure Soccer's Ills