Last night, when a female fan attending the Braves/Phillies game unwittingly flashed her panties at TV cameras, it was only a matter of time before some douchebag on the internet posted a still of the shot and acted like they were King Awesome, Vagina Destroyer. And this morning, a popular Philadelphia sports blogger fulfilled these low expectations by posting the shot along with a "Check this out, bro!" style caption. Aren't we over this by now? Why is it still thrilling for a certain subset of dude to post upskirt photos without a woman's consent?
Crossing Broad's Kyle Scott tacked the picture onto the end of an unrelated post this morning after an eagle-eyed professional poon patrolman caught the accidental flash and posted it to Twitter. The woman's not identified and her face is only partially obscured, but it's pretty obvious from the still that she doesn't know she's being filmed and isn't aware that her crotch is being broadcast globally.
Understandably, some people are upset by this, pointing out that the woman didn't consent to her Lohan moment being reproduced ad infinitum and guffawed at by sports nerds. But Scott is undaunted and refuses to remove the photo or modify the post, defending his actions by asserting that "it. was. on. TV."
Good grief. Scott doesn't seem like that huge of an idiot, and it doesn't take much more intelligence than the amount that a huge idiot might possess to understand that there's a difference between an accidental flash caught by TV cameras and a still of that flash broadcast on blogs and social media. But in case the difference isn't clear, let me spell it out: TV cameras accidentally caught this woman in the background of a shot exposing her panties, which it appears she didn't intend to do, as she's not looking in the camera, making a weird "WOO LOOK AT ME I'M FLASHING!" face, and couldn't possibly know that TV cameras were filming from the perfect angle to capture her lap. There was no deliberate attempt on the part of the TV camera to capture some peeping tom style crotch. However, when you pause that broadcast, capture a still, and post it on a blog so other people can point and laugh, you're essentially creating and distributing a deliberate non-consensual upskirt photo of a woman.
This photo isn't news; it doesn't show a newsworthy event happening, even if bloggers at Crossing Broad have seen so few women's crotches in their lives that an accidental glimpse of one is newsworthy to them. The woman in the shot didn't consent, and is probably embarrassed. And Crossing Broad's refusal to remove the image is troubling, creepy, and kind of rapey, but unsurprising.
G/O Media may get a commission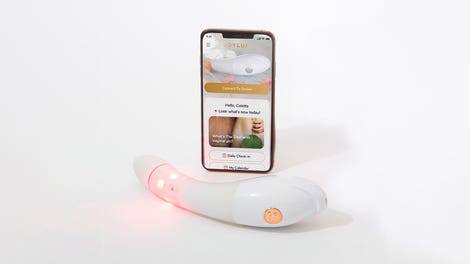 $50 Off
Joylux vFit Gold Device
Broadcasting this image should require the expressed written consent of this woman, Major League Baseball, and the Philadelphia Phillies, but posting this image has whiffed all three.