Spanx are obviously huge, and getting bigger. How — and why — did the girdle come back?
Sara Blakely is the woman behind Spanx. A former fax-machine salesperson and aspiring comic, she started out by cutting the feet off some tights — and a revolution was born. She tells the New Yorker's Alexandra Jacobs she likes the "virgin-whore tension" of the Spanx name (which at this point is so wedded to shapewear it's hard to imagine it could ever have felt transgressive) but today the brand is much more: the piece mentions potential products names as diverse as Cool Control, Simple Smoothers, Fantastic Firmers, Standout Slimmers, Brilliant Bras, Remarkable Results, and Bralleluia.
Sara Blakely is herself a devotee of her product. She works with her husband, who is rather ominously described this way: "tall and athletic and with curly blond hair, [he] is a former rapper." Her apartment, meanwhile, is "decorated in a modern rococo style, with ottomans covered in zebra print, ankle-
deep rugs, maroon tiled ceilings, sequinned pillows, feminist art, and a silver chandelier."
This "feminist art" theme carries over into her offices, paneled with pink and pre-feminist magazine covers. It's hard to know how much of the pink and the perk is subversive. Just as with Spanx, you're not sure if you're using "shapewear," which is somehow new and acceptable and favored by even the sveltest star on the red carpet, or just a girdle by any other name — what Jacobs points out "was associated
with the aging and the piteous."
What's weird though is that for all its cute trappings and careful branding, Spanx are a much more conscious choice than were girdles of prior eras. Back in the 50s and 60s, you wore foundation garments: the clothes demanded it and they were as essential a part of one's wardrobe as a bra and panties are today. Sure it all came down to societal expectation in the end, but that probably didn't factor into the individual purchase decision. I'm guessing there was less winking about the whole business.
G/O Media may get a commission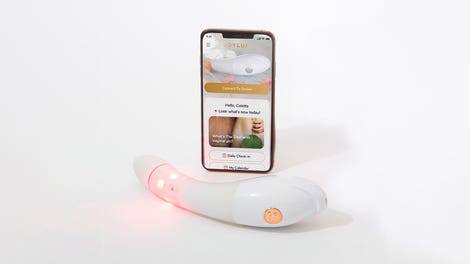 $50 Off
Joylux vFit Gold Device
Spanx is getting into men's underwear — which still makes people snicker — and is attempting to conquer the no-slip strapless bra, although of course they haven't because it's impossible. But they've effectively brought back the girdle, which feminists cast off as a tangible vestige of the patriarchy. Spanx's whole "thing" — the pink offices, the cute names and cartoon ladies — is that it's for women, by women, a wink-wink ladies' thing. At the end of the day, is that true? More to the point, do we care?
Image via WhatchamaCallit