A source tells us that an upcoming issue of New York will feature a cover story basically absolving fashion photographer Terry Richardson.
According to the source, Terry Richardson will allegedly tell writer Ben Wallace-Wells (UPDATE: Wallace-Wells denies involvement, it might be the similarly named Benjamin Wallace) the mag that he is innocent of all of the sexual assault allegations leveled against him. He will, in the words of our tipster, "say the girls are full of crapola." The tipster adds:
He has convinced the editors that he is innocent. The girls have no idea that they are going to be the losers.
Although Terry Richardson has not been charged with a crime, for four years now, models have come forward with stories about how he pushed boundaries during photoshoots. Many of the women involved claim that they froze or suddenly disassociated themselves from the situation, only realizing later what had happened: He'd asked them to touch him. He'd taken out his penis. He'd ejaculated on their faces. The women involved? Young. Barely of-age. One describes herself as "a rapist's dream, completely naive and trusting, but passive and shy on top of that." Another says as soon as Richardson got naked in front of her during a shoot, she began to "zoom out of the situation." A not-uncommon psychological response to trauma.
Richardson has argued that the women involved knew what they were getting into:
I collaborated with consenting adult women who were fully aware of the nature of the work, and as is typical with any project, everyone signed releases . . . I have never used an offer of work or a threat of rebuke to coerce someone into something that they did not want to do. I give everyone that I work with enough respect to view them as having ownership of their free will and making their decisions accordingly.
G/O Media may get a commission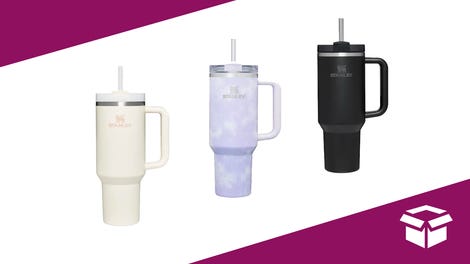 Up to 45% off
Stanley Cup Sale
Which is not so much a denial as it is a shrug and a "shit happens." As we've pointed out before, consent isn't the absence of a forceful no: it's the presence of a yes. With many of these Richardson allegations, the models never said "yes." Instead, they were manipulated, by someone whose very job it is on set to tell them what to do. When one model was asked why she didn't leave the second Richardson took his penis out, she put it thusly:
I dont know [why I didn't leave]! I think it was fear and a an automatic disconnect happened inside my head or something. It felt like it happened so quickly. Their attitudes were so upbeat and like everything was just you know silly or cool or whatever that the blend from weird to crossing the line was somehow blurred as it happened.
Richardson may argue that the women never said no, never left the set, never refused to be a part of his shoot, but does that make him innocent?
In any case, we'll be looking forward to seeing what this alleged New York cover story is all about. Know something? Tell us: tips@jezebel.com.
Previously:
Meet Terry Richardson, The World's Most F-cked Up Fashion Photographer
Exclusive: More Models Come Forward With Allegations Against Fashion Photographer
Another Model Comes Forward With Horrible Terry Richardson Allegations
Anonymous Model Who Accused Terry Richardson of Assault Comes Forward
Model Responds to Terry Richardson's Open Letter: 'Unjustifiable Shit'
Who Supports and Funds Terry Richardson? GQ and Bazaar, For Starters