This morning, Moe got on the horn with Mystery, the VH1 reality show star who picks up girls through a combination of spiritual energy, sushi and cosmology. But last night, Mary-Kate Olsen told Conan O'Brien that recently, some guy came up to her and asked if he could make her some tomato soup. That was his line. (M-K deadpanned, "I looked at him and said, 'I love tomato soup.' Now I'm pregnant.") The pick-up artist may have the magic touch, but in the spirit of Crap Email From A Dude we now have The Worst Internet Pickup Lines, culled from the website Weird Dating Mail by the British tabloid The Sun. After the jump, check out actual responses to women's profiles posted on dating sites. You know what they say about first impressions!
The challenge:
Are you looking for a MAN? A fierce MAN? I am looking for a true lady to please and care for...just don't weigh more than me (ha, ha) I can see that you don't. Don't be clingy. Don't be NEEDY. Don't expect me to support you. Treat me like the Prince that I am and I will return the favour.
The underminer:
hey, you look like you have a moustache :( sorry.
The poet:
meyoumeyoumeyoumeyoumeyoumeyoumeyoumeyoumeyoumeyoumeyou
meyoumeyoumeyoumeyoumeyoumeyoumeyoumeyoumeyoumeyoumeyoumeyoumeyoumeyou
meyoumeyoumeyoumeyoumeyoumeyoumeyoumeyoumeyoumeyoumeyoumeyoumeyou
meyoumeyoumeyoumeyoumeyoumeyoumeyoumeyoumeyoumeyoumeyou
G/O Media may get a commission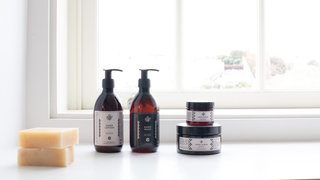 Exfoliate and Hydrate
The Handmade Soap Company
The realist:
I'm an old guy. It's fair to say that I'm just happy to be on the planet, not under it. I'm not hip or cool. I like whittling, golf and fishing. Just sitting around really. I'm wondering if you would possibly like to meet an old coot like me. You won't have to catch my drool or anything - looks like you're going to last about as long as me anyway.
The enthusiast:
I ABSOLUTLY LOVE YOUR BEAUTIFUL PALE WHITE WHITE WHITE SKIN YOUR-MAJESTY-! I am looking for a WOMAN TO PAMPER WITH FOOT-MASSAGES AND PEDICURES-! I am also looking FOR A LONG-TERM RELATIONSHIP THAT COULD POSSIBLY LEAD TO MARRIAGE ONE DAY-! -NEIL OR KNEEL AT YOUR PERFECTLY PEDICURED PALE WHITE WHITE WHITE FEET ALWAYS-!!!
The all-too-familiar:
u wanna smoke herb and bang sometime?
Maybe Moe can get Eric von Markovik on the line and help these guys out?
'I Love Your Pale White Skin' [The Sun]
Related: Mary-Kate Olsen Reveals Weirdest Pick-Up Line [People]
Weird Dating Mail
Earlier: My Mid-Morning Conversation With VH1's "Mystery"