The movies that drive awards season each year, more often than not, function as simple slices of normal white life; they're stories about everyday white people who get to be regular, regardless of plot or genre. Last year, it was Casey Affleck's tragic Manchester by the Sea. This year, besides the typical historical dramas that get elevated, it's films like the suburban coming-of-age film Lady Bird and Call Me By Your Name, a story of same-sex romance that was praised at last year's Sundance.
Two Sundance films this year stood out to me as dramas that focus on everyday black people and spin a cautionary tale from there. Musician Boots Riley's directorial feature debut, Sorry to Bother You, is an eccentric exploration of a black guy's place in a capitalist world, and Tyrel, from Chilean director Sebastián Silva, defines the discomfort of performing in a white space while black. These portraits of normalcy—in the vein of Moonlight, whose Best Picture win in 2017 felt so rewarding because it was simply the story of Chiron—deftly funnel themes of race, masculinity, and capitalism through the lens of mundanity. (Although, these two films are not Moonlight, to be fair.)
Tyrel is the modest tale of a young black man named Tyler (Jason Mitchell), who spends a weekend in a Catskills cabin with drunk white boys surrounded by snow, ignorance, and Irish coffee. Meant to be teachable in its subtlety, it's shot with tension in mind and drama in the details—the way Tyler shifts his shoulders to conceal unease, his interaction with his durag, his unfamiliarity with the music the white boys play. The film plays like a psychological VR experiment about otherness that's already been compared to Get Out. (The feeling wasn't at all lost on me while watching the movie in a theater in the middle of Utah on Mountain Time.) There's a particularly dreadful scene in which Tyler succumbs to peer pressure and minstrelsy. With its understated commentary, the film openly looks to invoke kinship and empathy. This occasionally comes off weird, as if Tyler is the unknowing subject of an eerie exhibit.
G/O Media may get a commission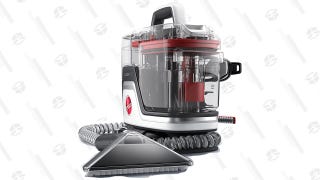 Save $10
Hoover CleanSlate Plus Carpet & Upholstery Cleaner
Tyrel builds a story out of a series of micro-aggressions, including a flub that explains the movie's title. Sorry to Bother You, more enjoyable, leans surreal, with a genius running joke that makes use of the performative "white voice" that defines code-switching among black people (though it's less overtly about race than Tyrel). The protagonist, Lakeith Stanfield as Cassius Green, is stuck living in his uncle's garage and desperate for a salary, so he finds a regular job as a telemarketer. The more he advances, succumbing to the lure of money and corporate prestige, the weirder and weirder the story gets (horses are involved), as Cassius engages with a labor-busting sociopath CEO played by Armie Hammer, who acts like an evil Winklevoss twin. Cassius's girlfriend Detroit (the wonderful Tessa Thompson), meanwhile, is the flip of the coin, an indulgent visual artist with a socialist spirit.
Thanks to a conceit that's too fantastical to contain, the movie's third act flails to a finish. But as absurd as it gets, Sorry to Bother You succeeds as a cynical narrative about a black guy working to make ends meet in the midst of blood-sucking capitalism. It's a simple story about daily 9-to-5 life, told outlandishly. Outside after the Tyrel screening at Sundance, an older white woman walking behind me reviewed it as "boring" and concluded, "It just felt like a frat party. I didn't get it." The real-life subtext was clear and yet, for her, convenient to overlook.