The licentious world of Amazon literary criticism may soon be much more tightly regulated, at least as far as nepotism is concerned. The New York Times reports that Amazon's criticism sentries are cracking down on the glowing book reviews obviously dashed off by an author's family member, friend, or sycophantic pet hedgehog, which admittedly gives itself away early on in reviews by writing something like, "Sink baths are favorite! Master is #1 writer and drawer of sink baths!!"
Such glowing — and often shallow — reviews diminish the reliability of the Amazon critiquing system, which many prospective readers with limited dollars to spend on fancy e-books use to help them make informed purchases and curate a respectable Kindle library. Although some authors see no harm in quietly soliciting some positive reviews, or asking the over-enthusiastic uncle with time enough on his hands to write about how his niece's new collection of semi-autobiographical essays "made him weep tears of pure sunlight at the revelatory truths contained within its masterful prose," other, more effete Amazonians are worried that a deluge of baseless five-star reviews will dilute a new book's critical feedback and perhaps trick some guileless readers into buying a craptastic book thinking it will be amazing.
However, these so-called "sock puppet" reviews can be important to authors hoping to establish some kind of following for their most recent e-publication. A loose coalition of writers working under the slogan "No Sock Puppets Here Please" has sought to limit such dummy reviews by asking users to "vote for book reviews you can trust," which really just amounts to reviewing a reviewer and sounds like a chunk of time that might be better spent learning to think for oneself.
Besides, some observers think that Amazon is unfairly targeting reviews from friends and family members while totally ignoring reviews from users who admit to not even reading the book they're reviewing. Science fiction novelist Edward W. Robertson, for example, told the Times that Amazon implemented its new reviewing crackdown in too broad a way, saying, "I believe they caught a lot of shady reviews, but a lot of innocent ones were erased, too."
Robertson estimates that some 10,000 have so far been culled from Amazon, a number that, as of right now, doesn't include the delightful reviews for Bic for Her pens. The pen reviews staying put might better illustrate what sort of criteria Amazon is using to judge acceptable reviews — innocuous and obviously fake comments are allowed to linger while glowing book reviews by the suspiciously prolific Harriet Klausner might be dumped. Klausner (a real human living and speed reading in Atlanta) has filed more than 25,000 reviews, but almost all of them have four or five stars. Though her ceaseless Amazon critiquing has raised some eyebrows, Klausner says she reads fast and reviews positively only because if she makes it past the 50-page mark, a book has earned her respect.
G/O Media may get a commission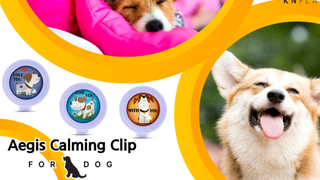 20% off
Aegis Calming Clip for Dogs
If the Harriet Klausners of the Amazon review world are real people with oodles of time to zip through small mountains of murder mysteries, it doesn't seem fair that their reviews shouldn't be given their due space in the democratic user-review system on Amazon. After all, where else can you find a forum for posting your critical college survey essays about the Romanticism and hoping, fingers crossed, that some bored department chair at Prestigious Private University recognizes your critical acumen and offers you a place in PPU's highly-selective English lit. Ph.D. program?
Giving Mom's Book Five Stars? Amazon May Cull Your Review [NY Times]
Image via Furtseff/Shutterstock.