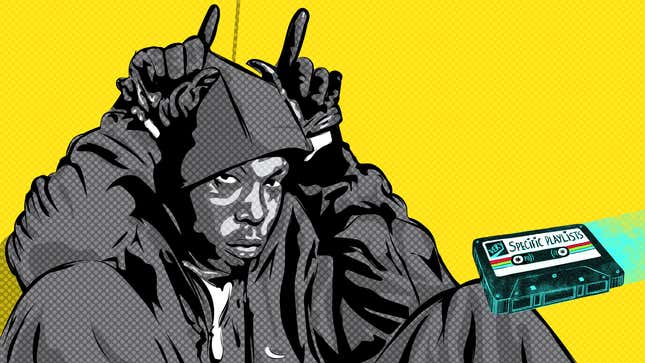 Since the inception of grime—the hard-edged, futuristic British genre of rap music cultivated in East London in the early 2000s—its central nervous system has operated concurrently with the way teens use technology. Dizzee Rascal, for instance, began recording at the age of 16, making music on Logic in a studio after school; his debut and arguably biggest hit, "I Luv U," was his attempt at creating a simulacra of the beat Timbaland made on one of his favorite songs, Memphis Bleek's "Is That Your Chick?" By 18, Rascal's music had spread first across London via pirate radio and then across the world through an internet just burgeoning to become the way we now know it, and in 2003 the young producer and MC dropped Boy in da Corner on XL.
As a relatively new genre, grime has historically been a young person's game by definition, particularly in its capacity as a post-millennial genre—the culmination of post-Thatcher, 21st Century disenfranchisement of council estate dwellers in London's council estates. (Immigration waves to London deeply influenced its sound as well, as the writer Timi Ben-Edigbe elucidated in a great piece on the post-grime teen beats of East London anthem-maker J Hus.) But now, we're seeing grime grow up the way we did with hip-hop, its original MCs and beatmakers becoming respected elders as new blood rises up and changes its core sound. Of course, the elders have changed their sound, too—today the original rudeboy Skepta released Konnichiwa, his first album since associations with Kanye West and Drake sparked a new interest in grime in North America, and upon first listen, it seems his dabbling with cross-pond rappers has left a thumbprint, with tracks featuring Pharrell and A$AP Nast and a Down South trap lull here and there. Skepta, an old head at just 33, is continually expanding a genre he helped invent.
Tonight in Brooklyn, Dizzee Rascal will perform Boy in da Corner in its entirety as a part of the Red Bull Music Academy Festival New York. Brooklyn was the location of his first US show 12 years ago on a promotional tour for that album and, watching 22-year-old rising superstar Stormzy perform at Brooklyn's Market Hotel in March, I couldn't help but note the parallels between his and Dizzee's rise, as two young rappers with charisma and talent in excess. Stormzy blew up in part due to the virality of his YouTube videos for the songs "Shut Up" and "Know Me From," cutting and witty anthems with razor's edge choruses you can scream along to. The crowd at the show, largely populated by young British expats clamoring for a selfie with the artist, indeed screamed along, breaking into a full mosh pit for "Know Me From" and losing their minds between sets when the DJ Nick Catchdubs dropped classics like Lethal Bizzle's "Pow" and Wiley's "Igloo."
The vehemence with which those songs were met was one clue to how many English people were in the audience; one never-ending question with grime is whether it can translate to a mass of US audiences, and how. In 2004, tastemaking Hot 97 DJ Funkmaster Flex had "Pow" in his Friday night rotation, and that year an American rapper so illustrious as Pitbull hopped on the riddim. But apart from a few ups and downs and a fairly consistent audience for Dizzee over the years, grime has never really taken off here like some hoped. Even Def Jam and Jay Z couldn't make it happen, having signed Lady Sovereign in 2005 after a few cheeky and fun pop singles and dropping her a few short years later. And it's telling that Skepta played a good three or four shows in New York City in 2014, drawing a good population of grime diehards, but didn't really foster thirst until he got the Drake cosign. (Drake, for what it's worth, got a tattoo expressing his fealty to Boy Better Know, Skepta's crew; unfortunately, other than an eight-years-later sample of a UK funky smash hit that others have already covered, the grime influence didn't seep in to the unequivocally phoned-in Views.) Grime, it seems, is just too damn hard for most of the weaklings around these parts.
G/O Media may get a commission
25% Off
Coleman SaluSpa Inflatable Hot Tub Spa
That phenomenal Stormzy jam and Dizzee's concert tonight has got me feeling pretty nostalgic for the feeling I had the first time I ever heard grime. Already a fan of the glossy groove and deep vibes in UK garage (and, perhaps regrettably, spending way too many quid on import white label vinyl during an era of a shit conversion rate), grime was on another level entirely, and the first time I heard "I Luv U," something shifted in my brain and I've never been the same. (How did Dizzee make that sproing in the beat?! Getting up to two decades of sproingy grime beats, I still wonder it!) And so, I've made a playlist of grime's past and future, pairing old jawns with newer hits that traverse and bend the genre in ways we couldn't have imagined a decade ago. (That J Hus though!) Before you get into it, though, rewatch the video for "I Luv U" and give Shystie's feminist answer track a listen.
---
1. Dizzee Rascal, "Jezebel"
A tale using the archetype of the Jezebel to construct a slut-shamey narrative, I still gave him a pass on this when it dropped because he also acknowledged his own lust and therefore complicitness in the lyrics. Also, he wrote it for us.
2. Lethal Bizzle, "Pow (Forward Riddim)"
At this point I've listened to the Pitbull version so much it sounds odd to hear Lethal Bizzle on it, but it remains one of the most fire productions of the new millennium, and a classic grime posse cut of epic proportions.
3. Boy Better Know, "Too Many Man"
This 2009 joint, peppered with a UK funky flavor that was percolating at the time, will never fade precisely because its sentiment is so universally imperative: "WE NEED SOME MORE GIRLS IN HERE! IT'S TOO MANY MAN TOO MANY MANY MAN!" Perfect for the club and office alike!
4. Wiley, "Igloo"
One of the most recognizable and important grime instrumentals ever from the genre's don dada, Wiley's description of his own music as cold stuck for its ominous precision. So icey!
5. Shystie, "Bad Gyal Style"
Shystie's long been one of grime's nimblest MCs, and this is a fully going-out jam get get juice with your girls before the rave.
6. D Double E, "Street Fighter Riddim"
He's got one of the most original voices in the game, peppering his flows with his signature "EUHHH" ad libs, and this is as close to a platonically representative track in the genre as any. Love D Double E.
7. JME, "96 Fuckries"
I've listened to this track 96,000 times and its fuckries never grow old; JME is Skepta's brother and my absolute favorite grime dude, and last year's Integrity> was both a mission statement and one of the best albums of 2015.
8. Jammer, Hyper, D Double E, etc., "Royal Rumble"
Also watch the video: these dudes invented this shit, respek.
9. Flava D, "In the Dance"
10. Flava D, "Bare Fields"
Flava D is of the newer guard and one of the genre's finest grime/dance producers it's got—listen to the way she slinks in the ill bendy sounds just when you're about to reach the body high and marvel at her fortitude.
11. Champion, "Crystal Meth"
Another newer fellow with a nasty signature sense of what makes grime innovative.
12. Lady Leshurr, "Queen's Speech 3"
You've probably heard her in that commercial. She rules.
13. Tinchy Stryder, Bayku & Giggs, "Move"
When Giggs first dropped I was flabbergasted by the way he sounded like grime by way of Atlanta, the first to incorporate trap styles into British music long before nerdy weirdo Swiss EDM guys got the idea. This is a nice distillation of that middle ground.
14. J Hus & Locz, "Dubai"
J Hus is on track to be another Drake, a very young and savvy melodic fellow who's learned from those before him and has the savvy to back it up.
15. Lady Sovereign, "Random"
Oh god, I'm old. I forgot that Sov pulled that so terrible fake patois on this joint, poor gal. What a great song, though, and prescient for the modern age, when the entire motto of the internet (including some peoples' editorial strategies?!) is "Everybody get random, just do something random."
16. Skepta, "Shutdown"
17. Skepta f. D Double E & A$AP Nast, "Ladies Hit Squad"
18. Skepta f. Pharrell Williams, "Numbers"
19. Skepta f. Novelist, Lyrics"
Skepta's one of the best, truss mi daddy.
20. Lethal Bizzle f. Stormzy, "Dude"
21. Stormzy, "Shut Up"
22. Stormzy, "Know Me From"
On "Shut Up," Stormzy also offers one of my favorite personal mottos: "Man try to say he's better than me. Tell my man shut up!" YAASSS STORMZY GO AWFFFF.
---
Illustration by Sam Woolley