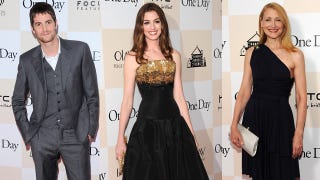 When I think of One Day, I immediately think of those Acuvue commercials starring Charice, but it's actually a movie in which Anne Hathaway uses a British accent. Red carpet attendees at the premiere interpreted that information to mean different things.
As the film's star, Hathaway treated the red carpet seriously with a serious dress and serious jewels. Oddly, she seems to be wearing a wedding ring set on her middle finger.
Broadway's Spider-Man Reeve Carney wore jeggings, while Jim Sturgess decided that a three-piece suit sans tie would be a good idea. And does it not count as an event if a Jonas brother isn't in attendance? They're more spread out than the splinters of the cross. Speaking of that Charice Acuvue "One Day" song though, did you know that the Jonas brothers wrote and produced it? So maybe that's the connection?

I love everything about what Beth Ostrosky is doing here except for her enthusiasm for bronzer. She's starting to look like hotdog casing. Coco Rocha's dress looks a lot like a classy congrats-on-your-wedding card; I'd half-expect (or hope?) for a check to fall out of her if she lifts the bottom up. And then there's Patricia Clarkson, with the bangin' bod.

Nora Zehetner's snakeskin shoes are kind of genius in that the straps look like mini snakes wrapping around her feet.

I can't knock Nina Jacobson's, Alice St. Clair's, or Imogen Poots' hustle for choosing function over fashion.

Hands-down, Best Dressed/Most Amazing goes to Rachel Roy who wore fucking pajamas, didn't do her hair, and couldn't be bothered to put in contacts. Kick off those heels and switch out that purse for a laptop, and she's working a blogger's uniform.