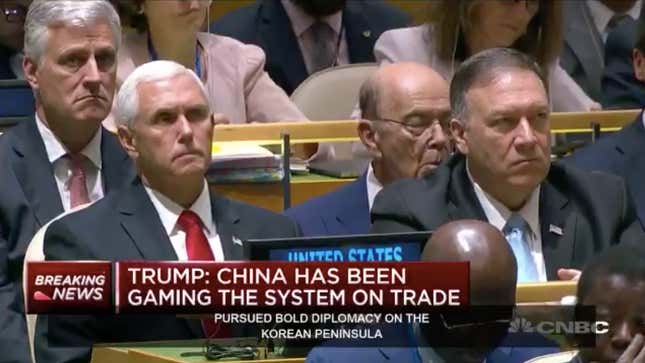 I'm not saying there's anything wrong with Wilbur Ross, our 81-years-young commerce secretary, but maybe someone check on him? I'm sure he's fine. Ha ha! He's fine?
Betsy Wolfe Reveals the 'Most Embarrassing Thing That's Ever Happened' to Her on Stage
Just a little tap-tap on the shoulder? He got up after the speech ended, right?
Update 7:22 p.m. ET: The Department of Commerce reached out to Jezebel with a comment from Secretary Ross offering that he was not asleep during the president's speech and is not "low energy":
This is fake news. I wear hearing aids and, during President Trump's inspiring speech, which covered in detail the entire range of significant issues facing the world, was concentrating on what was being said.

Immediately following the President's remarks, I attended bilateral meetings with the leaders of the United Kingdom and India, and, later in the day, will have follow-up meetings with officials from the United Kingdom and South Korea. Additionally, throughout the entirety of the UN General Assembly, I attended events or am planning to participate in meetings with the governments of Pakistan, Poland, Egypt, Japan, Greece, and Vietnam.

On Sunday, I will depart on twelve days of official travel to London, New Delhi, Bengaluru, Yangon, Naypyidaw, Canberra, and Sydney. This is not the schedule of someone with low energy.