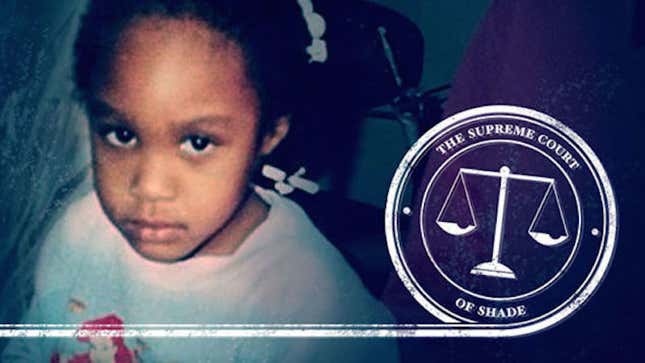 Hopefully everyone who read Shade Court last week is still alive and back again today. If that's the case, it's good news because it signifies A) we haven't been bombed into a nuclear holocaust by North Korea and B) I don't want to tempt fate by bragging about any additional good news so let's just stop there.
In this week's Shade Court, IHOP lets me down, President Looney Toon Buffoon tries to talk and I have to set Auntie Maxine straight.
Shade Court Docket #2017JZ000049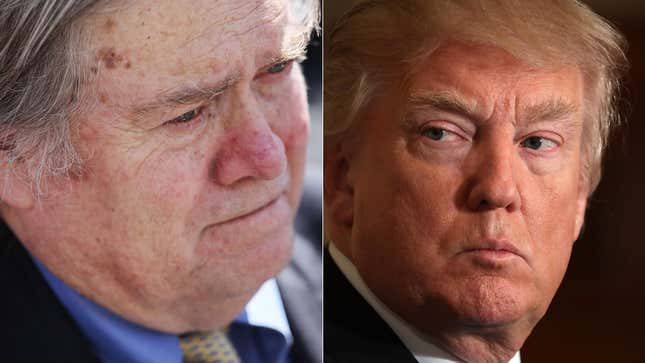 The Case: Donald Trump, an orange balloon filled with spoiled tapioca pudding, has realized that perhaps a leaking Nazi garbage bag that was left in the sun for two months isn't the best person to help him run the country. When asked about the reported unrest behind the scenes at the White House, Trump said this about Steve Bannon:
"I like Steve, but you have to remember he was not involved in my campaign until very late. I had already beaten all the senators and all the governors, and I didn't know Steve. I'm my own strategist and it wasn't like I was going to change strategies because I was facing crooked Hillary." He added: "Steve is a good guy, but I told them to straighten it out or I will."
G/O Media may get a commission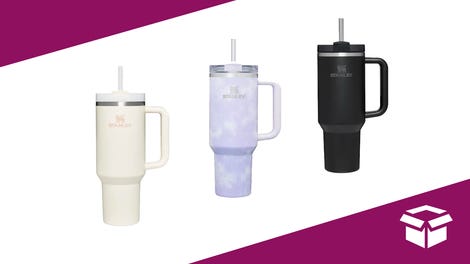 Up to 45% off
Stanley Cup Sale
The Defendant: The Daily Beast
The Evidence:

The Deliberation: I'm going to be diplomatic and assume this author, like others, perhaps interpreted the "I didn't know Steve" line as some sort of callback to Mariah Carey's infamous moment. What they're all forgetting, however, is that unlike Donald Trump, Mariah Carey actually knew what she was doing.
Mariah shook her head, dropped the bomb and said nothing else. We must fully grasp the savagery required for her to flick that subject away like an errant piece of lint—simply looking into the camera, still shaking her head and wondering what the next question is because, Hello, I've already answered so let's get on with it shall we daaahling?
Here, Donald Trump rambled on like that malfunctioning robotic Pinocchio that he is. Please.
The Ruling: Not shade
Shade Court Docket #2017JZ000050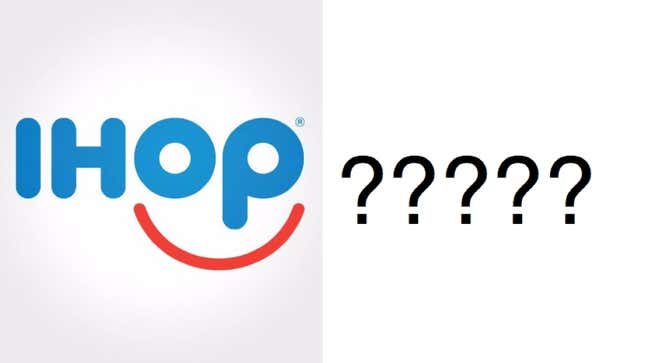 The Case: My best guest is that, the night before sending this tweet, IHOP's social media manager got drunk, passed out while watching old episodes of Drag Race and internalized all the dialogue without retaining any of the context.

The Defendant: IHOP
The Evidence:
The Deliberation: Girl, what? WHO ARE YOU TALKING TO? Shade requires a target. While we're asking questions: THE REAL WHAT? WHY CAN'T YOU FINISH A SENTENCE. I KNOW THAT A LOT OF COOL-SOUNDING SLANG INVOLVES OCCASIONALLY DROPPING YOUR G'S BUT YOU'RE NOT SUPPOSED TO DROP ENTIRE WORDS. SEE HOW THAT DOESN'T MAKE? WHY ARE WE TALKING LIKE? WHAT IS?
You know, I'm not even fully sure why I included this. It's clearly an open and shut case and, frankly, it's almost a bit too silly even for me. I don't know, every so often it's good to toss a softball around—toning rather than gaining muscle mass.
This tweet is so deeply embarrassing and flagrantly random it almost makes me wonder if words are even real anymore. Are you, the reader, understanding this right now? Is everyone seeing the words on their screen but just making up in their mind whatever it is they want the words to mean? Am I even typing real words? Am I just doing this right now?
I MEAN COME ONE. Pancakes are already so damn delicious, I can't imagine they need this much promotion. Just show us a well-shot pic of the 'cakes. That's all we need!
My heart is particularly hurt here because I love IHOP. (And just can it right now because I didn't care about your opinion on my affinity for Domino's and I sure as shit don't care about your disdain for my love of the most consistently satisfying breakfast for under $13 you can find within 5-7 miles of your location at any given moment while still in the continental United States.)
This has gone off the rails.
The Ruling: Not shade
Amicus Briefs
No. 17-003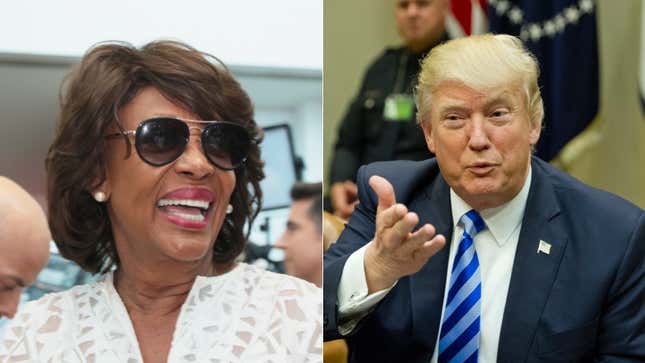 Maxine Waters vs. Donald Trump
The Case: Auntie Maxine has been—to use a phrase she's likely familiar with—giving Donald Trump the bizness.
The Argument: Oh girl. I'm sorry to say this Maxine because I respect you and I respect people's family but your grandchildren are a pack of goddamn lying liars.
Sorry, I'll be more delicate. Maybe they're just uniformed—avid readers of E! Online, perhaps. Either way, they've done you wrong, girl. Congresswoman Waters hasn't been shading Donald Trump but reading his sorry ass for filth at any opportunity presented.
It could be that her grandchildren are confused because in the past she's thrown shade at them, which I would certainly believe. My grandma does it to me all the time. Nobody kills you with shady-ass kindness that you wouldn't dare try to refute like a grandma.
The Conclusion: Not shade
No. 17-003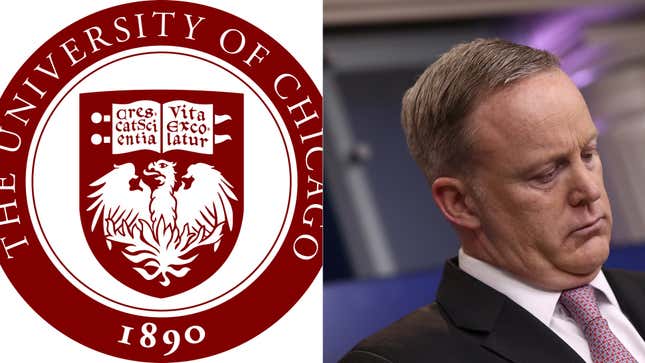 Anne Knafl vs. Sean Spicer

The Case: Sean Spicer is, astonishingly perhaps a bigger dumbass than his dumbass boss. This week he did something particularly stupid by suggesting Hitler was somehow better than Syrian dictator Bashar al-Assad because he "was not using the gas on his own people the same way that Ashad is doing," which is obviously ahistorical nonsense.
Sane people everywhere took notice and I received this delightful story dispatched from the University of Chicago:
The day after that incredible doofus Sean Spicer coined the term "Holocaust centers" and said some ignorant shit about how Hitler didn't use chemical warfare on his own people, one of the University of Chicago's librarians emailed pretty much everybody affiliated with the University to announce a new exhibit on Nazi chemical warfare. Here's her message:

"Hi All,

I've put up a small exhibit on the 4th floor "Resources for the study of the use of gas by the Nazis to murder."

Here is the news story on the Library website.

http://news.lib.uchicago.edu/blog/2017/04/12/resources-for-the-study-of-the-use-of-gas-by-the-nazis-to-murder/

Hope you are well,

Anne
The Argument: I can understand the hesitation one might have in labeling this shade. The format is somewhat different in that there's almost no way Sean Spicer will ever see this.
Ordinarily, as I've argued about Trump, I'd say unless someone understands on some level that they're being shaded, it's hard for the shade to truly land. However, I'm going to make a bit of an exception because we all need a chuckle, don't we?
Could this has been a simple coincidence? Maybe Anne K. Knafl, renegade bibliographer, was working on this project for weeks and happened to finish an exhibit about the horrors of Holocaust gas chambers the day after Sean Spicer attempted to erase them. Sure! Anything's possible.
Another belief I have is that some higher power abandoned us on November 8, 2016 and she's now trying to correct the course after falling asleep at the wheel by granting us these simple but satisfying joys. There are no coincidences in Shade Court, my friends.
The Conclusion: Shade