Ho ho ho, you're an idiot.
The scam artists at OpticsPlanet are selling a $6,500 Santa Stakeout Kit. You could not get more American than this — spending money you don't have on shit you don't need to chase some fictional idea of success. Or something.
Here's the full list of the items in the Santa kit:
Camouflage Gear
Apparel
Backpacks
Hydration & Food Storage
Camping Gear
Hunting Gear
Accessories
Night Vision, Thermals & Cameras
Seriously. All that shit. To hunt down a fake motherfucker WHO DOESN'T EVEN WANT TO BE SEEN.
And guess what? When your kid grows up they'll NEVER respect you. How could they? You're an idiot who spent SIX THOUSAND and FIVE HUNDRED DOLLARS AMERICAN to track down something that's less real than a Yeti.
OK, let's just say for a minute that Santa is real. Let us just entertain that idea. You'd need a lot more gear if you were headed to the North Pole. Basically, this is a rip-off no matter which way you slice it.
G/O Media may get a commission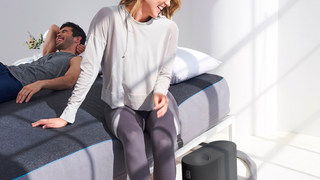 Eight Sleep Pod Cover
I have no idea why I'm still writing it except that growing up in an environment where having enough money each month was far from a guarantee — this shit just pisses me off. Yes, you can spend you money on anything you want, but if you spend it on this, you are an asshole and an idiot.
[h/t techland]
Image via Shutterstock/Tatiana Popova