Just when you think all of the horrible things in the world have already happened, something like this comes along. Last week, Susan Orellana-Clark was Skyping with her husband, Capt. Bruce Kevin Clark, a 43-year old Army chief nurse who was stationed in Afghanistan. Everything seemed completely normal when Clark collapsed, completely out of nowhere. What happened next is beyond awful and extremely confusing. According to a statement released by Clark's family:
Clark was suddenly knocked forward. The closet behind him had a bullet hole in it. The other individuals, including a member of the military, who rushed to the home of CPT Clark's wife also saw the hole and agreed it was a bullet hole.
As if seeing your husband get shot isn't bad enough (if that's what happened; nobody's saying anything), it landed on Susan and her family and friends to get Clark some help, since no one where he was apparently knew what had happened to him. And all the while, the family could still see him over Skype.
After two hours and many frantic phone calls by Mrs. Clark, two military personnel arrived in the room and appeared to check his pulse, but provided no details about his condition to his wife. At the time of the incident, the family was hoping for a rescue and miracle, but later learned that it was not to be.
Ohhh, God. Talk about living a nightmare. As for what exactly happened to Clark, very little information has been released. The Pentagon says it's under investigation. The whole thing definitely seems odd. If it was a bullet, where did it come from? Why didn't anyone hear it? So many questions, so far not very many answers.
Though regardless of how he died, it's certainly horrible that his wife had to watch whatever happened from so far away with very little power to help him. Though, remarkably, Susan is choosing to see it as a blessing, in one respect at least. According to the family statement,
Although the circumstances were unimaginable, Bruce's wife and extended family will be forever thankful that he and his wife were together in his last moments.
G/O Media may get a commission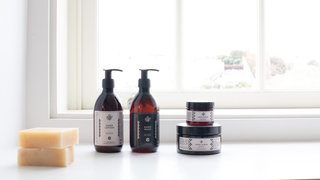 Exfoliate and Hydrate
The Handmade Soap Company
In addition to his wife, Clark is survived by two young daughters. His body has been returned to the United States, and a funeral is planned. One hopes that his family will have some answers very soon.
Army officer dies during Skype chat with wife [CBS]
Soldier in Afghanistan dies during Skype call with wife [6ABC]