Friday is Independence Day, so if you're American I assume you're planning to park your buns in a lawn and/or lounge chair for 72 hours straight. Which makes this the perfect time to get into romance novels!
Ana Gasteyer Satirizes the Girl Boss in 'American Auto'
Something like $1.35 billion worth of romances were sold last year, according to RWA. That's a boatload of books, and like any other ocean there's a plenty of garbage floating around. Not every reality TV franchise can be a crown jewel like the Real Housewives! Which makes the genre downright daunting for even the most open-minded newbies. At least a third of the negative stereotypes about romance are probably attributable to run-ins with ancient Catherine Coulter novels abandoned at the beach. Or, God forbid, Danielle Steele.
For instance, my first romance was Kathleen Woodiwiss's The Wolf and the Dove, and it is a minor miracle I ever read another. (It was like Ivanhoe but crossed with Shades of Grey except the rape fantasy is prehistorically unselfaware.)
But if you've got even the slightest curiosity, it's worth giving the genre a try. Remember, there's probably no other creative industry shaped so thoroughly by women. Sure, the presidents of publishing houses are generally men, but it's women authors, agents, publicists, reviewers and buyers who form the rank-and-file of the bodice-ripper business. Nor is the genre wall-to-wall shy secretaries and marauding kisses anymore . The business and the books could be a lot more diverse, but I'm reliably less infuriated by romances than, say, summer blockbusters. I'll take literally any Harlequin over literally any Michael Bay movie.* *except for Armageddon, of course
G/O Media may get a commission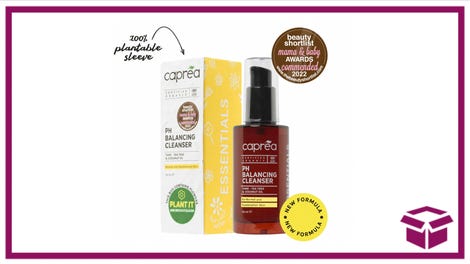 Save $9
47% Off Essential Organic PH Cleanser
Sustainable beauty
Caprea's Essential Organic PH Cleanser is just $10 with promo code TEN. Normally $19, this foaming face wash is crafted with organic Monoi oil. It's meant to target the production of oil secretion while protecting your skin against air pollution. Normally $19, you can save big on this richly-lathering face wash while supporting a brand that keeps the environment top of mind.
So: Here is a random assortment of points of entry. It's heavy on the historicals, because I love historicals. Much like a burglar, you might have to circle the premises, maybe try a couple of doors and windows before you get it right, but this'll get you started.
9 Rules to Break When Romancing a Rake, by Sarah MacLean
Historical romance has gotten a lot of sprucing up in the last decade. Once upon a time it was all Regency retreads, but now it's positively crawling with determined, powerful female characters wrestling to various degrees with the boundaries society had drawn for them. And Sarah MacLean is a great example of this. In 9 Rules, for instance, heroine Calpurnia makes a list of forbidden activities (smoking, for instance) and begins systematically trying every single one.
Or, you might want to try Meredith Duran. Her characters always seem to be dabbling in opium and debating the Corn Laws, which is delightful. Also the hero of That Scandalous Summer meets the heroine when she wakes up hungover in his rosebushes and it's treated as an oopsie-daisy rather than a SHAMEFUL FALL FROM GRACE.
Lord of Scoundrels, by Loretta Chase
Sebastian Ballister, Marquess of Dane, is a terrible rotter and also a stupidly handsome, emotionally stunted blockhead. (But in a cute way?) Jessica Trent, who is a damned dynamo and basically unstoppable, is very determined to rescue her idiot brother Bertie from his pernicious influence. They're at cross-purposes but of course completely hot for one another. The perfect whiplash-inducing combination of angst and hijinks. Peak reformed rake. Widely considered one of the best romances ever written.
If you get hooked on Chase, the next logical step is Laura Kinsale, who is such a boss that she wrote a romance novel with a bunch of dialogue in fucking Middle English. Put that in your pipe and smoke it, George R.R. Martin.
Bet Me, by Jennifer Crusie
Basically anyone who reads a lot of romance will sooner or later hurl some Jennifer Crusie book at your head while screeching I TOLD YOU TO READ IT ALREADY, GODDAMMIT. Welcome to Temptation, about a woman who falls for a small-town mayor while accidentally (?) making some soft porn, is probably more universally beloved. But my fave will always be Bet Me, about charming Cal and cranky Min. She's plump without being a pathetic sad-sack; their happily-ever-after is childfree by choice.
If you like Crusie, a good next step would be Susan Elizabeth Phillips, whose Natural Born Charmer opens with the heroine hitchhiking in a beaver suit. As one does.
Georgette Heyer
A great starting point if you're the type to ease into the pool one limb at a time, and you've read and loved every single Jane Austen novel (and Jane Austen fanfic) available. Personally, I've never much gone in for Heyer; I prefer my romances with more angst (and also more boning). But she's deeply beloved and she practically invented the Regency romance.
Outlander, by Diana Gabaldon
WW2 nurse time-warps back to 18th century Scotland; star-crossed love commences. So, confession, I've never actually finished Outlander. (I surrender my official Romance Readers of America card!) But this has long been the number-one gateway historical romance, and I'm not going to argue with that track record.
Desperate Duchesses Series, by Eloisa James
This woman is a tenured professor at Fordham so, you know, there's your response if anyone gives you crap for reading her stuff. The Desperate Dutchesses series is a good place to start—her most recent, Three Weeks With Lady X, stars an aristocratic woman who redecorates homes (and lives), kind of like a romance-novel Dolly Levi. Julia Quinn would be another one to try, and Maya Rodale, too.
The Wallflowers/The Travis Series, by Lisa Kleypas:
To be completely honest, you could pick up almost any single Lisa Kleypas novel and disappear into a ten-day back-catalog binge. Likely your best starting point would be her Victorian-ish Wallflowers series, though Suddenly You holds a special place in my heart: It's about a lady novelist who decides to hire herself a male prostitute for her birthday. (A prank sends a publisher to her door instead.) Or, if you're bored of bustles, there's always Sugar Daddy, the first in a trilogy about some comically wealthy Texans.
Romance fiends: What else you got?