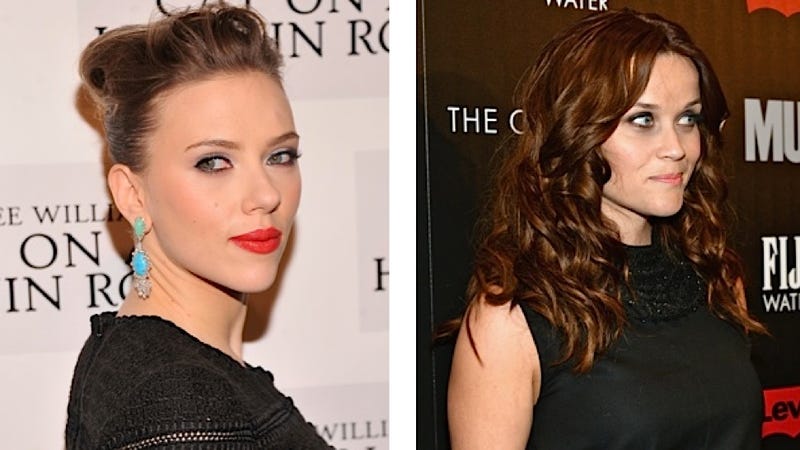 In a fantasy world, Hillary Clinton would write, direct, and star in the biopic about her years as a young lawyer in D.C. She'd also design all of her own swingin' 70s costumes and sets, based solely on her purportedly compendious HGTV knowledge. But Hillary Clinton has more important things to consider (such as maybe, possibly running for leader of the free world), so she's leaving the task of on-screen portrayals to a professional actress. All we need to do now is figure out which professional actress will be starring in Rodham.
Rodham, according to The Independent, will be set in 1974, when Hillary was a Washington lawyer. Apparently, the screenplay (which made last year's "Black List") is pretty sexy, though not Fifty Shades sexy according to writer Young il-Kim. Presidentially sexy. Several of Hollywood's most bankable actresses are rumored to be in the running of the Oscar-baiting Hillary movie, including Scarlett Johansson, Reese Witherspoon, Amanda Seyfried, and Jessica Chastain.
Director James Ponstoldt was diplomatic when asked who he'd prefer to play Hillary, saying something like, "They're all super wonderful!" but clearly there are some frontrunners. The Independent mentions Witherspoon and Johansson more than once, so maybe, as of right now, they have the inside track. Maybe someone totally surprising will emerge, like Meryl Streep in young person makeup. Or maybe, rather than film Kim's script as written, producers will decide that the really interesting Hillary movie would be the one that follows her retirement as Secretary of State, when she's just hanging around the house, ostensibly mulling a presidential run but really just binge-watching House Hunters and saying snarky things about credulous home-seekers. It could be like Mystery Science Theater 3000. Obviously, Meryl Streep would star.
Image via Getty