Last night's Saturday Night Live wasn't great. Gerard Butler was charming and did the best he could with the material he was given, but overall, the show seemed a bit off. However, there were a few skits worth mentioning:
Kenan Thompson's "What Up With That?" was probably the funniest skit of the night, if only because it was absurd on many levels; Bill Hader plays Lindsay Buckingham for no reason whatsoever, James Franco makes a cameo appearance, which is a theme this season, I guess, and Kenan spends the majority of the skit singing the very catchy theme song, which I've been singing since last night. I'm still not sure if flashing the BET logo and presenting Kenan's show as a BET show—on which he is the only black person out of about 10 cast members—was an in-joke at SNL's expense or a sign of how oblivious this show is when it comes to the their own casting issues. Slightly related: Andy Samberg was totally missing from last night's show. What up with that?

Kristen Wiig stopped by Weekend Update to make fun of Persistent Genital Arousal Disorder, which we covered on the site last week. Update: Apparently Hulu's coding for this is redirecting to a Doogie Howser clip right now, and NBC's site is redirecting to some kind of error, so hopefully this will be fixed soon. In the meantime, here's another Weekend Update clip:

The Rock made another appearance as "The Rock Obama," which is fine, whatever, as long as we don't have to sit through Armisen's increasingly half-ass impression for a full sketch (though in fairness, he seemed to be more on last night than in previous weeks):

G/O Media may get a commission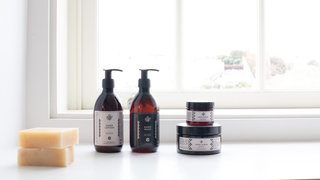 Exfoliate and Hydrate
The Handmade Soap Company
This Beauty and The Beast sketch was filled with beautiful sets, costumes, and multiple ass jokes. Bill Hader's Lumiere makes it worth watching, really.

Overall, okay, but the show dragged a bit and Andy Samberg's absence was noticeable. Kristen Wiig had yet another sketch devoted to an awkward character in a big wig and 70s clothes, which is just getting annoying, as it's really overdone. I know Wiig has seniority on the show at this point, but it would be nice to see the other women in the cast have roles that aren't "background singer #2" once in a while, you know? The best part of the night might have been the Bud Light ad campaign, which showcased Dress Rehearsal footage from past SNL seasons, which made me laugh harder than anything on the actual show. Anyway, what did you think of last night's episode?