The Labor Department announced Friday that employers added 227,000 jobs in February, slightly more than expected, which is obviously good news: in fact, the last six months have been the best streak for new jobs since the financial crisis hit in 2008.
But the National Women's Law Center points out that women gained only 38 percent of the jobs added last month, and that they've gained less than 12 percent of the nearly 2.2 million net jobs added since the start of the recovery in June 2009. Plus, women's unemployment rate hasn't improved at all since the start of the recovery — the 7.7 percent unemployment rate for adult women in February 2012 is still slightly higher than the 7.6 percent unemployment rate they held at the start of the recovery. Although the unemployment rate for adult men increased more than for adult women during the recession, it also subsequently dropped by 2.2 percentage points, down to 7.7 percent in February 2012.
"Today's jobs data show that women are starting to share in the recovery, but they still have a long way to go," said Joan Entmacher, Vice President for Family Economic Security at the National Women's Law Center. "Policy makers' top priority should be to help create and preserve jobs for women as well as men." Amen to that, sister.
If you hadn't noticed, the current rates for men and women are now equal to each other — they actually have been since January of this year. The last time both rates were equal before then was in December 2007, when they were 4.4 percent. (Wow, remember that?)
Analysts say it's nice that 2012 is off to a non-horrible start, financially speaking, but that we shouldn't forget that long-term unemployment rates for both women and men are still higher than at the start of the recovery. The percentage of unemployed workers looking for jobs for 27 weeks or more rose slightly for adult women last month to 44.0 percent; for adult men, it dropped slightly to 40.1 percent.
G/O Media may get a commission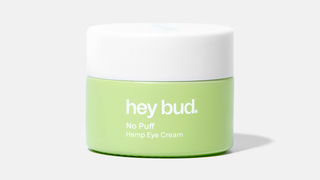 15% off
Hey Bud - No Puff Hemp Eye Cream

Economy gained 227K jobs in Feb.; more unemployed rejoin workforce [Washington Post]
Jobs Picture Improves for Women and Men [NWLC]
Image via Konstantin Chagin/Shutterstock.