"Nickelodeon Addicting Games," a free iPhone/iPad/iPod application from the people who once brought you Hey Arnold! and Doug Funny, features tasing, "cougars," and wasted girls passed out in front of toilets.
Eleanore Macnish discovered the app when her 10-year-old daughter asked if she could download it from the Apple Store. Macnish said yes, even though the game package is rated 12+ for "infrequent/mild simulated gambling" "infrequent/mild cartoon or fantasy violence" and "infrequent/mild profanity or crude humor," because she trusted Nickelodeon as a safe, "kid" brand, as did her daughter. She probably anticipated a fart joke or two, but she wasn't expecting her daughter to have to choose between a naked man's crotch and a mobile home to determine her personality type.
Check out these selections from Nickelodeon's "Ingenious Personality Quiz," which asks players to determine: "Are you a Creepy Loner? A Suck Up? We know you are sick. But what KIND of sick?" Kids are shown a photo of a wasted girl in a see-through white t-shirt passed out in front of a toilet and given the options "Let me get my camera" or "Let me hold your hair." Is a photo of a hammer a "multi-directional impact generator" or "answer to any argument"? A snapshot of a police officer attacking a frat dude asks users what they would yell: "Don't tase me bro!" or "I'm gonna tase you, bro!" (How culturally relevant!) How about spraypaint; would you use it to "Paint dolphins and unicorns and fairies and flowers" or the way cooler "tag stuff"?
Macnish writes that her daughter was too innocent to really understand why her mother was so upset, even when she determined that her personality type was a "Gutless Wonder" because she wasn't interested in snapping pics of blacked-out women to upload to YouTube later:
These submissive cowards are so quick to roll on their backs that they need to wear special ass-pads so they don't get holes in their pants. Complacent as cows, they tend to herd together, sharing group hugs and making it easier to beat them up all at once.
G/O Media may get a commission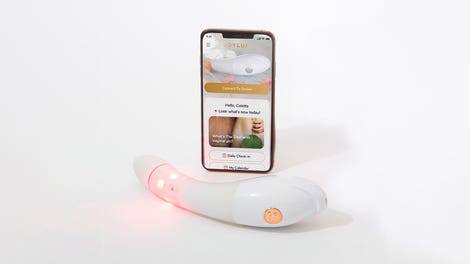 $50 Off
Joylux vFit Gold Device
Does Nickelodeon know that it's effectively promoting aggressive violence and sexual harassment? We think even Ren and Stimpy would be disgusted.
Nickelodeon, You Should Be Ashamed Of Yourself! [Lifetart]