Ex-Bill Clinton B.F.F., improbable modelizer, and owner of the private jet known as "Air Fuck One" Ron Burkle bought $6 million worth of American Apparel shares last summer. Then the stock price pretty much plummeted. Now he's reducing his stake.
Burkle became American Apparel's second-largest investor after founder Dov Charney (who owns around 57% of the company) last June. Burkle's company bought a 6% stake in the troubled clothier for some $5.9 million.
During the period Burkle made his purchase, American Apparel's share price was trading between $1.35 and $2.03, for an average price of $1.78. Burkle took the position because, he said at the time, he considered its shares to be "undervalued."
Unfortunately for Burkle, and all of American Apparel's other shareholders, things went from bad to worse for the company during the second half of 2010. The share price plunged below $1.00 in late August and early September, as the company fell out of compliance with several of its biggest lenders, lost the confidence of its public accounting firm, which promptly quit, and struggled to report its financial information to investors in a timely manner. American Apparel's failure to file its quarterly results on time drew the ire of the Securities and Exchange Commission and the New York Stock Exchange, which warned it of delisting but ultimately didn't follow through, and the departure of the accounting firm earned the company subpoenas from the Department of Justice. So much for "undervalued."
G/O Media may get a commission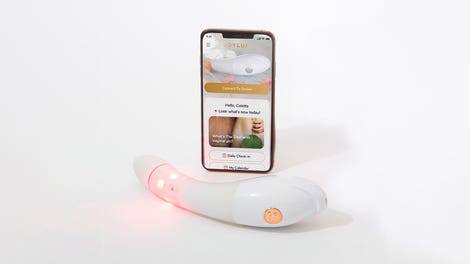 $50 Off
Joylux vFit Gold Device
Late last year, American Apparel announced it expected it would not make a profit for 2010. Sales, especially sales at stores open for longer than twelve months, a measurement that controls for store openings, have been in decline since February of 2009. Two-thousand-nine. American Apparel's same-store sales declined, during the third quarter of last year alone, by 16% year-on-year. Overall sales fell 10.5%.
Burkle announced in an SEC filing yesterday that he has reduced his stake in the company from 6% to around 4.3%. During the period in which he sold the shares, American Apparel's share price ranged between $1.37 and $1.62, and averaged $1.50. Since Burkle's sale became news, the stock is trading at around $1.09.
Why Burkle sold a big chunk — but not all — of his American Apparel holdings is of course unknown. Is he pissed that the company still isn't performing better? Why make a move guaranteed to depress American Apparel's stock price, given he still holds 4.3% of the company? Is he hedging? Does he just really love Dov Charney, the pants-optional C.E.O. whose sexay antics nearly match Burkle's own? Burkle isn't saying. Likewise, American Apparel spokeslawyer Peter Schey (our favorite person!) and company spokesperson Ryan Holiday couldn't or wouldn't comment on the move by our deadline today.
Image via
Burkle Cuts Stake In Troubled American Apparel [Reuters]
Burkle Reduces American Apparel Stake [Los Angeles Business Journal]
American Apparel [Google Finance]