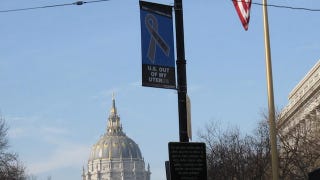 A coalition called the Silver Ribbon Campaign to Trust Women is advocating for a brighter 2012 for women's rights by flying a variety of pro-choice banners on San Francisco's Market Street. Above, one flies within view of SF's City Hall. Click through for more!
Silver Ribbon co-founder Sophia Yen, MD says in a press release,
When the House of Representatives votes that it is okay for doctors to allow pregnant women to die in the emergency room rather than perform an abortion, it's time for women to wake up and fight back," said Sophia Yen, M.D.,a co-founder of the Silver Ribbon Campaign. "As a mother and a pediatrician who specializes in adolescent medicine, I want to insure that my patients and my own daughters continue to enjoy the right to plan their families and pursue their career goals. For women, that means protecting and expanding reproductive rights.
Five partner organizations have joined with the Silver Ribbon campaign, including Catholics for Choice and SisterSong Women of Color Reproductive Justice Collective. Says Loretta Ross, National Coordinator of SisterSong,
Women of color are more likely to be adversely affected by policy and budget cuts to family planning. It is important for women of color to be trusted to make these private personal decisions for ourselves and our families. It is our human right to do so and we will not be shamed or silenced.
Silver Ribbon Campaign To Trust Women [Official Site]
Photo Slideshow [Picasa]
All photos provided by Silver Ribbon Campaign.