A reader wrote in this morning to tip us off to an article, asking if it was, perhaps, "the most awful dating advice ever." I don't know if it's the most awful, Dear Reader, but I'd say it's pretty close.
Dr. Pat Allen, one of the many doctors unleashed upon us by Oprah Winfrey, who honestly needs to have her Doctor Referral license stripped based purely on her promotion of Dr. Phil alone, is a sassy psychotherapist who has dating down to a science. Like most dating experts, she claims to have the real keys to success, as far as finding Mr. Right goes. She's currently on a whirlwind tour to promote her book, "The Truth About Men Will Set You Free...But First It'll Piss You Off!" a tome dedicated to the notion that if you want to date men, you need to be as shallow as possible: "Don't worry about what he's going to think about your job, family, background, friends…he just cares about how you look." Oh, thank god! And here I was, looking for someone who gave a shit about something besides my hair.
Allen recently gave an interview to the Examiner, wherein she elaborated a bit on her dating techniques. Interviewer Erin Laurence asks a few questions, and Allen gives...interesting answers. Let's explore them a bit, shall we?
Erin Laurence: What do women need to know before hitting the dating scene?

Dr. Pat Allen: First, you have to know the category of man you want. Women want generally. "I want a man who has old money from a good family." Men want specifically. "I want her. "
G/O Media may get a commission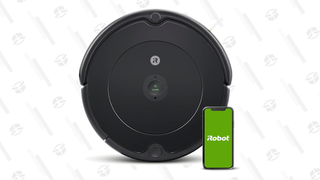 35% Off Black Friday Deal
iRobot Roomba 694 Robot Vacuum
Oh yes, because "I want her" is much more specific than "I want a man who has old money from a good family." And oh, those women! Always looking for the walking ATM, they are. Golddigging whores, the lot of you! Perhaps if you were more specific, you'd get what you wanted, just like the men do. Why can't you be more like men, ladies? You are all so confused!
EL: How important is being in good shape?

Dr. PA: The best bodies get the best money. It's based on statistics. Rich women are thin unless they're from another culture where men have freedom to have many women.

Dirtiest trick for a woman is to get him off the market and then break his toy (gain weight). Women say, "All you want from me is sex. " And the answer is yes.
So, in short, you need to be rich to "trap a man." And women who gain weight are just dirty, manipulative bitches who are clearly trying to break a man's spirit, and penis, apparently. Or maybe they're just poor. What the hell is this lady talking about?


EL: What is dressing for the family?

Dr. PA: It looks preppy. It likes like "good school," "neat slacks." It's the sweater that matches and is tied around the neck.

Every woman can dress for the man she's looking to attract. Old money dresses preppy. New money dresses trendy. If you like really brainy nerds, then you can wear nerdy clothes. If you like athletes then dress for an athlete.

If you're a good girl and you dress sexy when you meet him, he might say to you, "You used to dress sexy and now your square."

You can't make a first impression twice.
Oh heavens, don't be a square! How dare you dress sexy and then wear sweatpants! Tramp! Harlot! Misleading whore! You knew what you were doing in that skirt. And now you dare to be square? Men don't like women with more than one aspect to their personality. Don't you girls know anything?


EL: What shouldn't you wear?

Dr. PA: Don't wear silk, silk sweats and shows anxiety. I don't want you to sweat in front of him. It gives away the store. Then he can muscle power you into sex. And you give away the whole thing, all because you wore silk. Men are very visual.
I was not aware of this, you guys. Did you know this? Pit stains on your silk shirt give a man a license to "muscle power you into sex." And because you're such a sweaty tramp, you allow this to happen. What were you thinking, Silky McGee? You got nervous, and now a guy can have sex with you whenever he wants. You were totally asking for it, what with your normal bodily functions reacting against a fabric. Thanks again, Oprah. Maybe next month we can visit Dr. Phil and have him yell at us for being born with a vagina, as that gives men the right to "muscle power" us into doing whatever the hell they want, too.
I understand that Allen is going for the superficial here: her book title alone claims that "the truth" about men, namely, I'm guessing, that they making instant judgments about women based on their appearances, will "piss you off." But it's not the obvious "a first impression means a lot" advice that's so infuriating: it's the notion that a woman deserves to be treated a certain way based solely on her clothes. Sweating through silk is not a license for a man to push you into bed, sticking to the same style simply to please a man is not a healthy way to start a relationship, and gaining weight while you're in a relationship isn't always some stealth (and insane) plan to "trap" your poor, defenseless boyfriend into having a sexless life. Allen may think she knows the truth about men, but it would serve her well to consider realities that go beyond "game" and bar pickups. Allen's men all want you to play a role and be someone you're not, and Allen seems to think that's perfectly fine. Perhaps next time she'll consider that women don't have to lose themselves in order to please somebody else.
Stylish Dating Tips You Don't Want To Miss [Examiner]
The Truth About Men Will Set You Free...But First It'll Piss You Off!