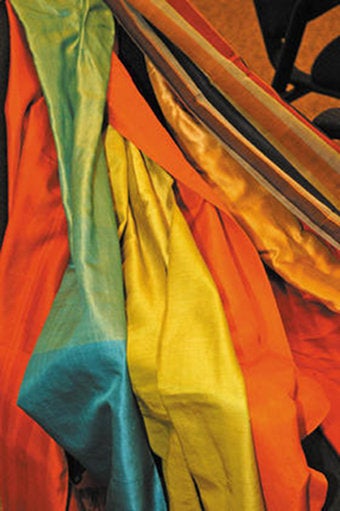 BlueSilk is the combination of unlikely bedfellows and really nice scarves, and it's a good thing:
It's no secret that prostitution and sex trafficking are major problems in Cambodia, both amongst children and women: in this desperately poor country, particularly in rural areas, uneducated women have few options and many parents sell their children to brothels while still in the single digits. New laws, like 2008's suppression of Human Trafficking and Sexual Exploitation, have, critics charge, merely driven the industry underground.
The only answer is to give women options, and while it may operate on a small scale, that's what Mekong Blue, part of Stung Treng Women's Development Centre, is all about. Started by a Cambodian couple, Mekong Blue, based in the impoverished Stung Treng Province, sells hand-woven silk scarves by local women. The company's scale was necessarily modest before they hooked up with a retired Episcopal priest from Nashville, Ann Walling, who helped Mekong Blue develop a web business. Working with volunteers (many of them far from tech-savvy), and starting with a fashion show and orders from Walling's old parish,BlueSilk.org now employs 100 women and is close to being self-sustaining. What's more, the weavers earn $150 a month - a more than respectable living in Cambodia.
The scarves, at $50, aren't cheap, but they're gorgeous, and the amount of handiwork in each is unbelievable; founder Chanta Nguon was adamant that they sell a product everyone could be proud of - and that people would but because they wanted to.
Mekong Blue
SWDC
Women Weaving Their Way To A Better World [NFocus]
Silk Scarves Combat Sex Trade [NPR]

Prostitution In Cambodia: 'New Law Doesn't Protect Me' [Guardian]