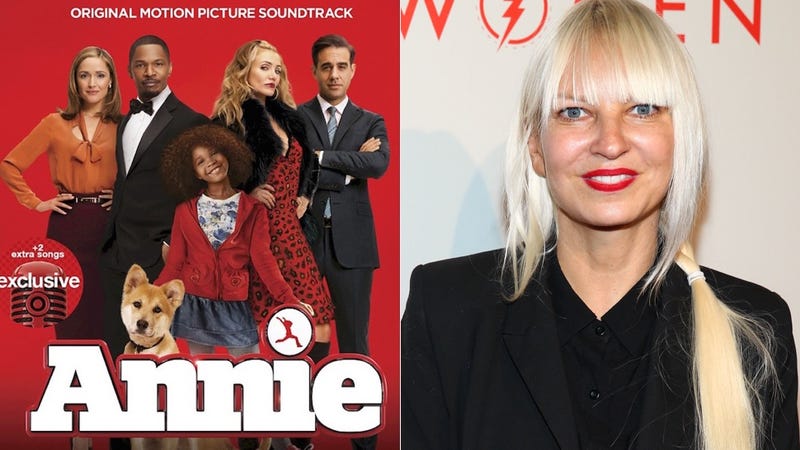 The soundtrack for the Annie remake out later this year is available to purchase and stream and it's predictably full of hope, wonderment and aw-gee. Remember childlike innocence?
The album kicks off with a happy symphony on "Overture." Quvenzhané Wallis—who stars as little orphan Annie in the movie—is all gushing with optimism while singing the classics from the musical, including "Maybe" and "Tomorrow." Meanwhile, Sia's similarly blithe, unbothered vocals are a natural fit for songs like "You're Never Fully Dressed Without a Smile."
In addition, Sia also wrote a handful of new tracks: "Opportunity," "Moonquake Lake" (performed with Beck) and "The City's Yours" (Jamie Foxx and Wallis), which could be a more downtrodden/realistic version of Taylor Swift's "Welcome to New York."
Cameron Diaz is basically talk-singing on "Little Girls." Billboard points out:
Fans will note some lyric changes on many of the songs. For example, in "It's a Hard-Knock Life," the words are changed from "No one cares for you a smidge/ When you're in an orphanage" to "When you're a foster kid," and "Little Girls" has a few new verses — but thankfully keeps the same catchy chorus.
Fact: While listening to "It's the Hard Knock Life," I rapped Jay Z's lyrics in my head. You can stream the soundtrack for the movie (in theaters Dec. 19) on Spotify.
(H/T: Flavorwire)
Image via Target/Getty