As mentioned in Dirt Bag, the Lohan family is shilling shit on a site called LohanHouse.com. Slogan: "Real People Live Here." Real, misguided people!
Each family member — Lindsay, Ali, Dina, Cody and Michael Jr. — has a "room" on the site. Junior's "room" features two pictures of him shirtless and hasn't been updated since September. The page belonging to Dakota, aka "Cody" hasn't been updated since April — though it's probably for the best, since, according to his bio, "Cody prefers playing soccer than[sic] starring in his own movie." Ali's room has a post (from April) about how she was bullied at school by mean girls. Lindsay's room actually has current info, but the site is peppered with grammatical and spelling errors, and was written by someone without a firm grasp of how to use an apostrophe. (Example: "Today is Dina Lohans[sic] Birthday. Buzz on the street is there will be a suprize[sic] party for Dina.")

But the most mind-boggling part is the "shop," where you can buy:
G/O Media may get a commission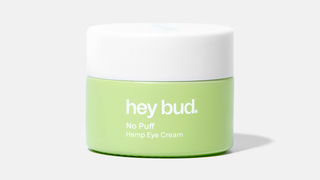 15% off
Hey Bud - No Puff Hemp Eye Cream
A $135 wrinkled DKNY sweater owned by Michael Jr.

Lindsay's Purple Converse, for $35.
Stella McCartney boots owned by Lindsay, for $500.
Nike sneakers — with Ali's name on them — for $150.
Or a jacket by "Diana" von Furstenberg, for $100.
Now, the second-hand designer market can be a lucrative business. But is there really a customer base for Michael Lohan Jr.'s old sweater? Or Lindsay's purple Chucks? Some of these items appear to be new, or new-ish, with tags attached. But knowing how much free swag celebrities get — between gift suites, PR mailings and brand promotions — you've got to wonder: Did the Lohans even pay for this stuff? Does Lindsay know her mom is selling things she's left behind? Where is the money going? Directly to Dina? I mean, sure, she's raising a bunch of kids by herself and trying to keep a no-good ex-husband off her back. But that doesn't mean anyone wants to pay $75 for a used "Marc Jacob" jacket. Then again, I could be wrong: While finishing this post, the pages on LohanHouse stopped responding: So many people wanted used orange Frye boots, the site crashed!
Look like Lindsay Lohan [Page Six]
[LohanHouse.com]