How obliging of AOL to hawk Disney's Princess wedding line apparently free of charge! "Which Fairy Tale Wedding Are You?" indeed.
(Writer and radio host Kurt Andersen quoted the headline as "Which Disney Princess Bride Are You?" on Twitter; it's not clear if the headline has subsequently been changed or if it was teased off the homepage differently. But it makes way more sense for a reader to be a Princess Bride than to be a Fairy Tale Wedding!)
The Disney bridal line has been around for awhile, but it's even more wonderful than you previously knew. Per the AOL story,
You should also be sure to check out the other inspired, more affordable (and unofficial) alternatives. Also notable, Kirstie Kelly doesn't just design bridal gowns and rings for each Disney Princess, she also designs maidens gowns, flower girl gowns, and accessories for them. If you wear plus-size, be on the lookout for dresses from the Red Label line.
G/O Media may get a commission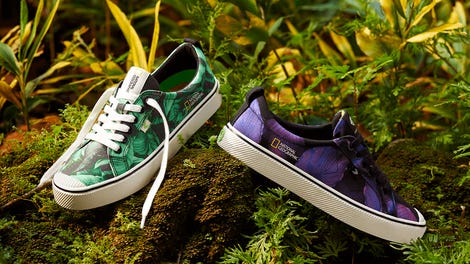 New New New
Cariuma + National Geographic
But first you have to figure out which Disney princess you are so you can buy accordingly. This is more fun than figuring out which Sex And The City character you are! I'll be honest, I lingered a bit over Belle but — I'm a total Jasmine! Maybe it's cause I have this weakness for anything with the phrase "exotic flair" in it.
But seriously, this arduous process of choosing has already been made easier by two similar specimens of Internet ingenuity:
Now, take your pick.
Related: What Disney Princesses Teach Girls [BoingBoing]
Earlier: Disney Princesses Rely On Good Looks, Little People, Men For Salvation
Disney Bridal: For The Fairy Princess In None Of Us